A Deep Dive into Bespoke Software Development
« Back to Blog page
Whenever you want to create a bespoke software product or use an off-the-shelf option, you need to weigh all advantages and disadvantages of these approaches to choose the best choice for your business.
In this post, we shed some light on what options you have when building your product, what bespoke software development is, why to go custom software development way, and when.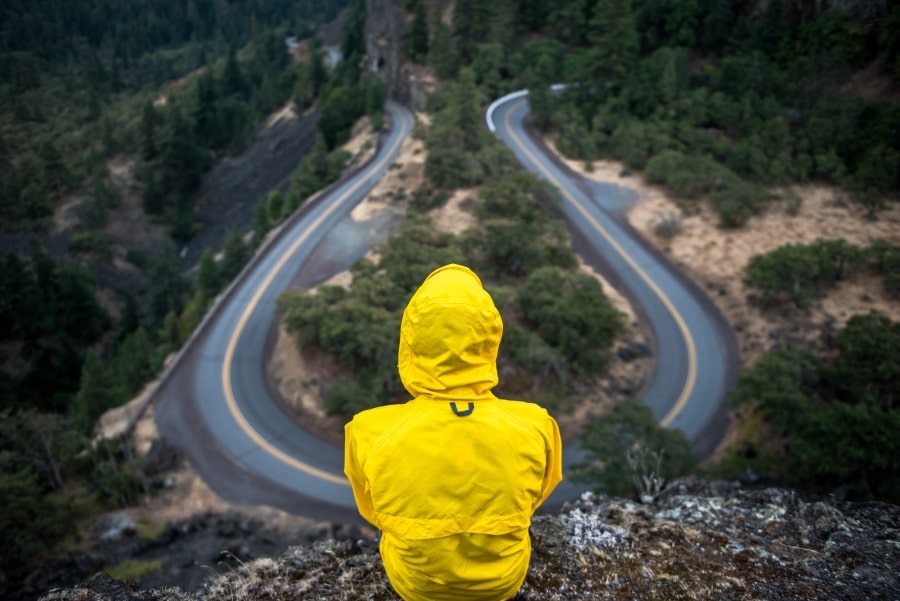 What's bespoke development
This type of software development means that you'll need to hire a team or a company of software developers who create a product based on your business objectives and requirements.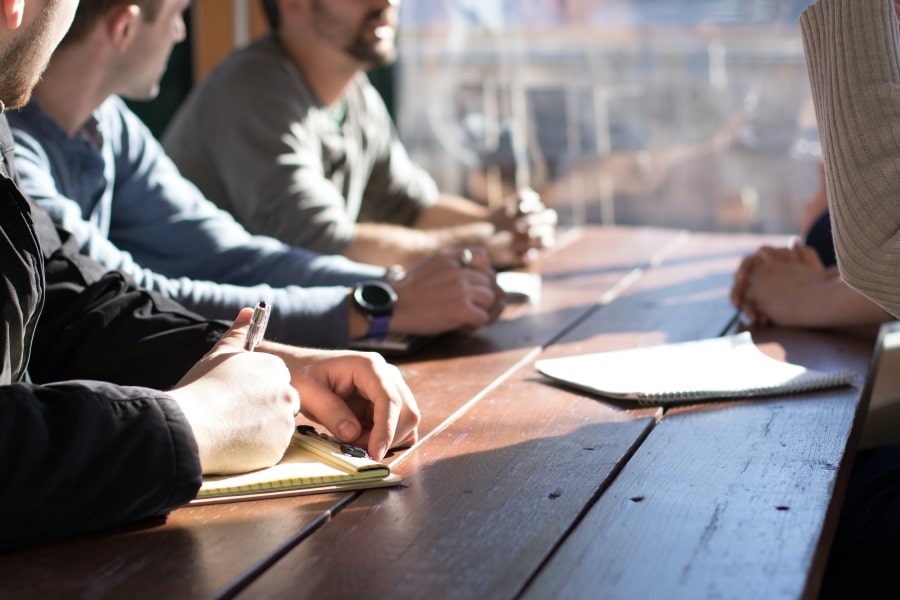 A bespoke application or a website development starts with your business requirements elicitation. When the requirements are clear, a team creates a feature list based on the requirements to ensure that all the business needs will be met. In plain English, you'll get a unique software product that is a perfect fit for your business.
Advantages of bespoke software development
Among the greatest advantages of custom software development are the following:
Only the necessary functionality. The product you order is designed according to your business needs and purposes. You'll get only those features that your target audience really needs.
Unique product development. When ordering tailored software development, you can provide your end-users with the unique features, user-flow, and design that they have never seen before. More details we covered in the article on how to build a custom CRM software.
Precise targeting. It's much easier to attract your target audience if you create a product from scratch specifically for this audience. At the end of the day, users can easily see if a website or an app they use was custom developed for their needs and desires or if it's a templated product.
Simple scaling. The majority of ready-made commercial software products charge a fee for every new user you want to add to the system. This bottleneck creates hurdles for your business growth. When creating a software product from scratch specifically for your business needs, you can add as many users as you need without any additional expenses.
Easy product modification. Business is like an alive organism that grows and changes. After a while, you may need to add new features or get rid of some functionality that your audience doesn't use. With a bespoke software product, you can update your system as often as you need. Read more about it in an article about banking app development cost.
Complete ownership. When hiring a bespoke software development company, you get a product that is one hundred percent yours. You can support it for as long as you need, modify, develop, grow, or even sell it if you'd like.
Disadvantages of bespoke software development
Despite a long list of benefits of developing bespoke business software, there are some drawbacks that can persuade you to choose another path. Let's take a look at them:
High cost. The development from scratch takes time. And time means money. While an off-the-shelf can cost you an average from $50 to $500 a month, the development of your own product starts at $3000 for a minimum viable product.
Longer time to market. According to the GoodFirms survey, the average time taken for typical software development from scratch is 4.5 months. It means that you'll need to wait for at least four months before your users can get access to the system.
Run-in time. A new product that you get has to be tested by real users to get analytical data that reflects the product's success. When the data is collected, you can analyze it to find out which of your theories about the product are confirmed, which are dispelled and think through further modifications. All this process can take more than half a year before your customers get a stable product version.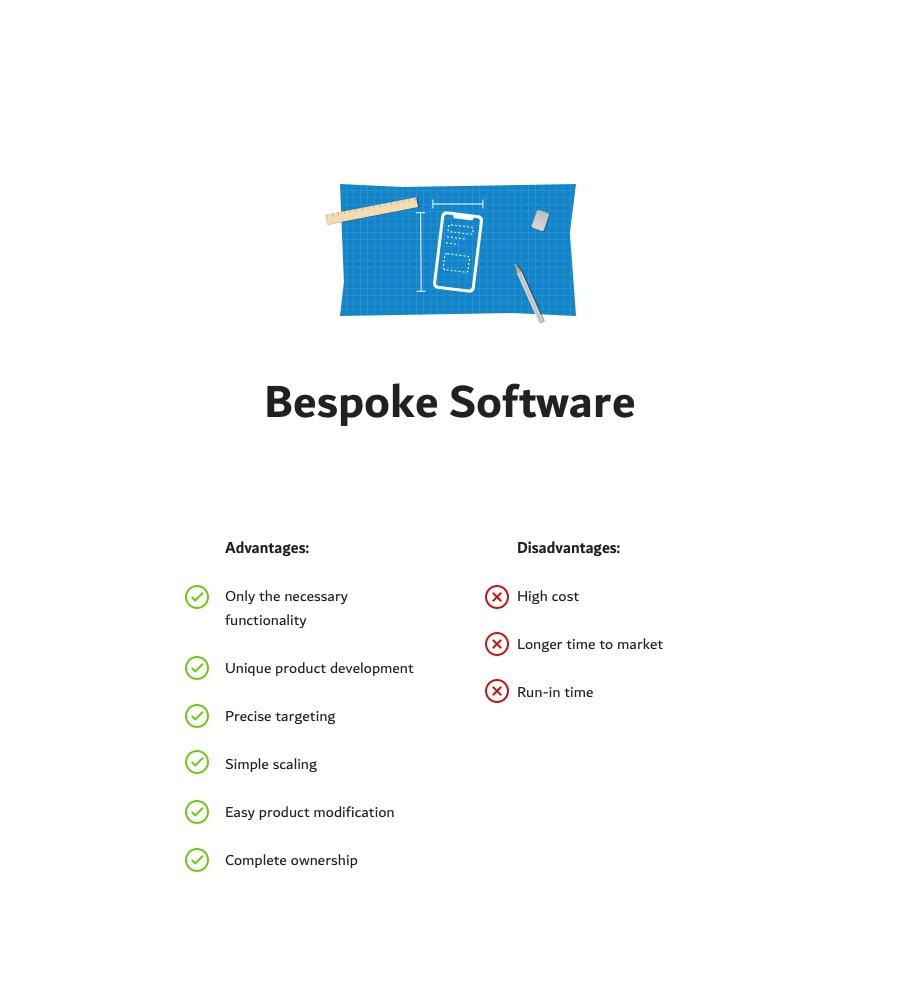 Now, when you know what bespoke software is, its benefits and limitations, let's look closer at another option you have when you're choosing a software product for your company.
Read also about in-house vs outsourcing website development.
What's off-the-shelf software
Unlike bespoke software solutions, off-the-shelf software is already built. Such solutions are designed to meet the mass market's requirements. That's why they usually have a typical set of features that is supposed to cover the most common needs of masses.
It's also worth mentioning that when you choose ready-built software products, you don't actually "buy" it. You rent it for some time and pay every month to use it. As well as a monthly fee, there could be other types of expenses on advanced functionality, analytics, or new users connected to the system.
If you need an example, remember how you pay for your antivirus program. That's you're using an off-the-shelf software solution.
Advantages of ready-made solutions
Off-the-shelf software solutions can become a great choice for your business because it brings the following advantages:
Lower cost. As we've mentioned before, the cost of a ready-made solution is far less than the cost of bespoke development. Yet, you need to calculate all the monthly expenses for additional functionality, or fee for a bigger number of employees to use the software.
No time to market. Ready-made solutions allow you to set up your system in a matter of hours, maximum a week. It means you don't need to wait 4.5 months until your own product is ready.
Presence of the most necessary features. Off-the-shell solutions are built with the idea to satisfy the needs of as many customers as possible. Such solutions have a large number of the most common features to meet the requirements of the majority of various businesses.
Free trial period. A lot of ready-made software solutions allow you to test their products, providing you with a free trial period. During this period, you can check if a product has all the necessary features, if it's convenient, and if it's worth its money. If you don't like a particular solution, you can move to another and test it for free, until you find your perfect match.
Disadvantages of ready-made solutions
The biggest drawbacks and limitations that you get when choosing a ready-made software solution are as follows:
A need to adjust. When using a ready-made system that was created for masses, you need to align your requirements and business processes to the existing software product, which can have a negative impact on all your business flow. Besides, if your business needs have changed and your existing system can't meet them, you'll need to look for another solution and start everything over.
No options to stand out. When purchasing a software solution that uses thousands of other companies, your chances to stand out from your competitors are close to zero. Even though you can add your company's logo to your site or app, you won't be able to create a branded product that is recognizable and unique.
Unnecessary features you have to pay for. A ready-made software product you choose has a set of features you need to pay for. It can turn out that some features are useless for you and some of them are so inconvenient that you'll need to use another system to cover this particular need, which leads you to a necessity to pay for two or even more products.
Integration issues. A modern company can have more than five departments, and each needs its own software program for effective work. When building a bespoke solution, you can easily integrate one system into another, so they exchange data smoothly. However, off-the-shelf solutions don't have such flexibility. As a result, your employees may end up manually transferring all necessary data, which takes far more time.
Expensive customization. Imagine you're using a ready-made CRM system in your sales department. One day you decide to add another filter in its search feature to make it easier to get some specific data about your customers. If this filter is in the list of available options in your CRM, congratulations, two clicks and you're ready to go. But what if it's not there? Then, you need to contact your provider and ask to add one. But here's the thing, some software providers don't provide any customization options at all. Other companies offer you its developer services at an outrageous hourly rate.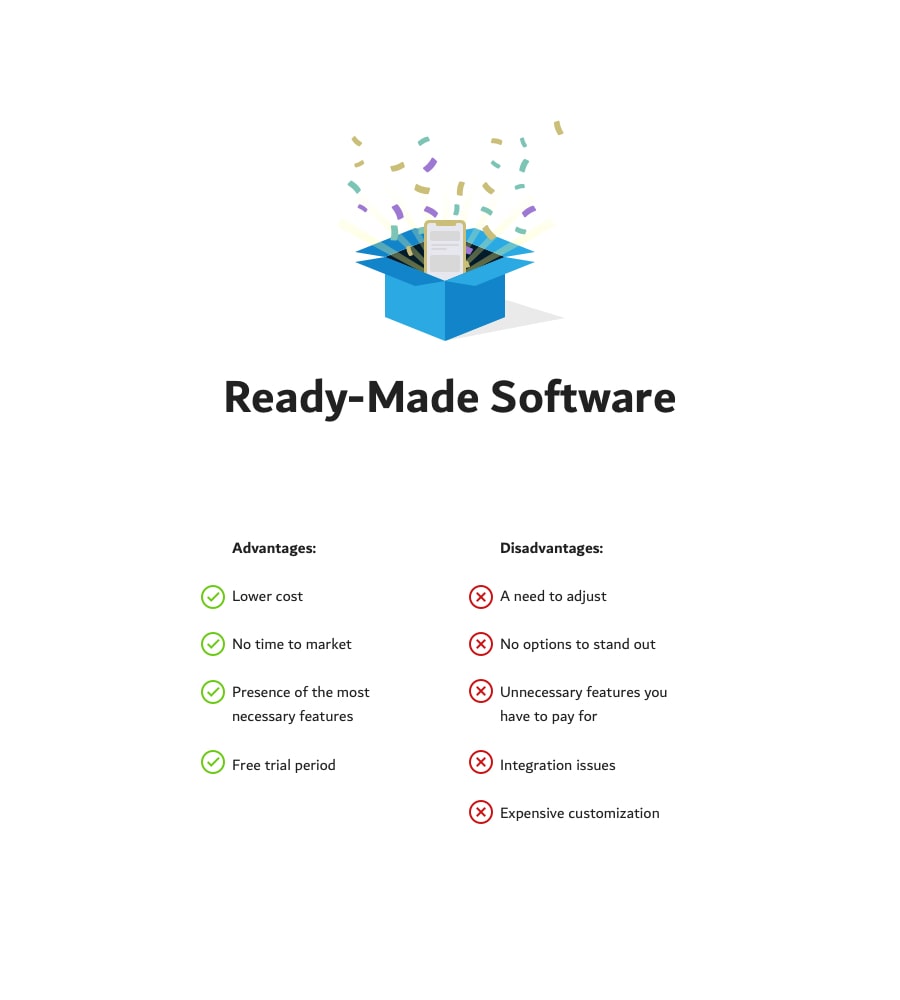 Final thoughts
There's no correct answer to whether you need to choose a ready-made solution or a bespoke software development. Both options have their pros and cons. In both cases, you need to compromise something. So it's better to make a decision based on your business needs. But if you're looking for a unique product with one-of-a-kind design and set of features, if it's critical for you to own the product, develop, grow, and scale it, then bespoke software development is the best option for you.
Looking for a reliable bespoke software development company with proven experience and in-depth expertise? Contact our team to implement your ideas into reality.