Forex/CFD/Crypto Trading Platform
All in one, common sense Capital Market OTC software package with all needed modules, ready for your brokerage and market making business.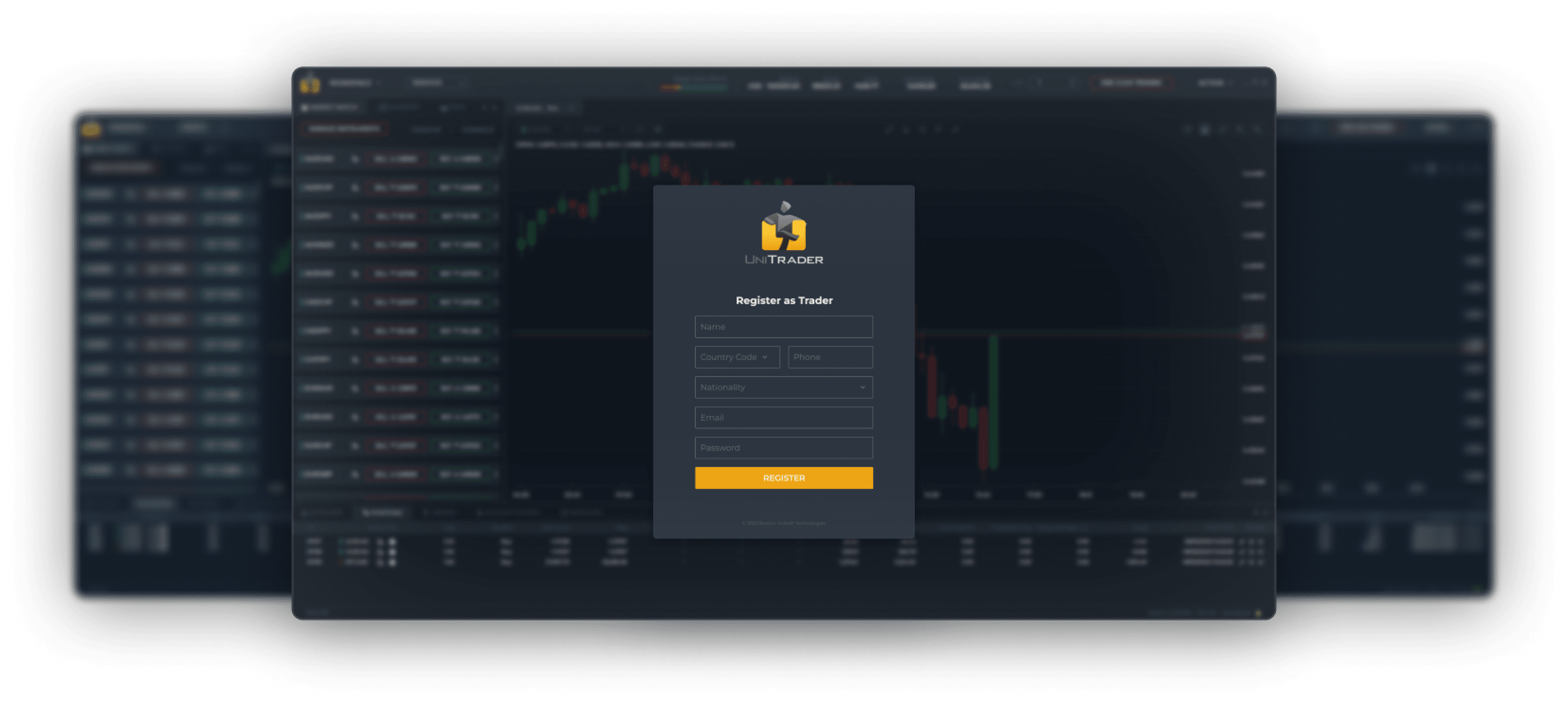 Client Onboarding Module Interface
Depending on your regulatory and compliance requirements we offer custom client onboarding.
From the simplest possible requirements for your demo system to sophisticated proof of ID and address, the client's trading/market knowledge and experience level and online signing of all risk warnings and account opening documents, UniTrader's flexible onboarding module offers it all.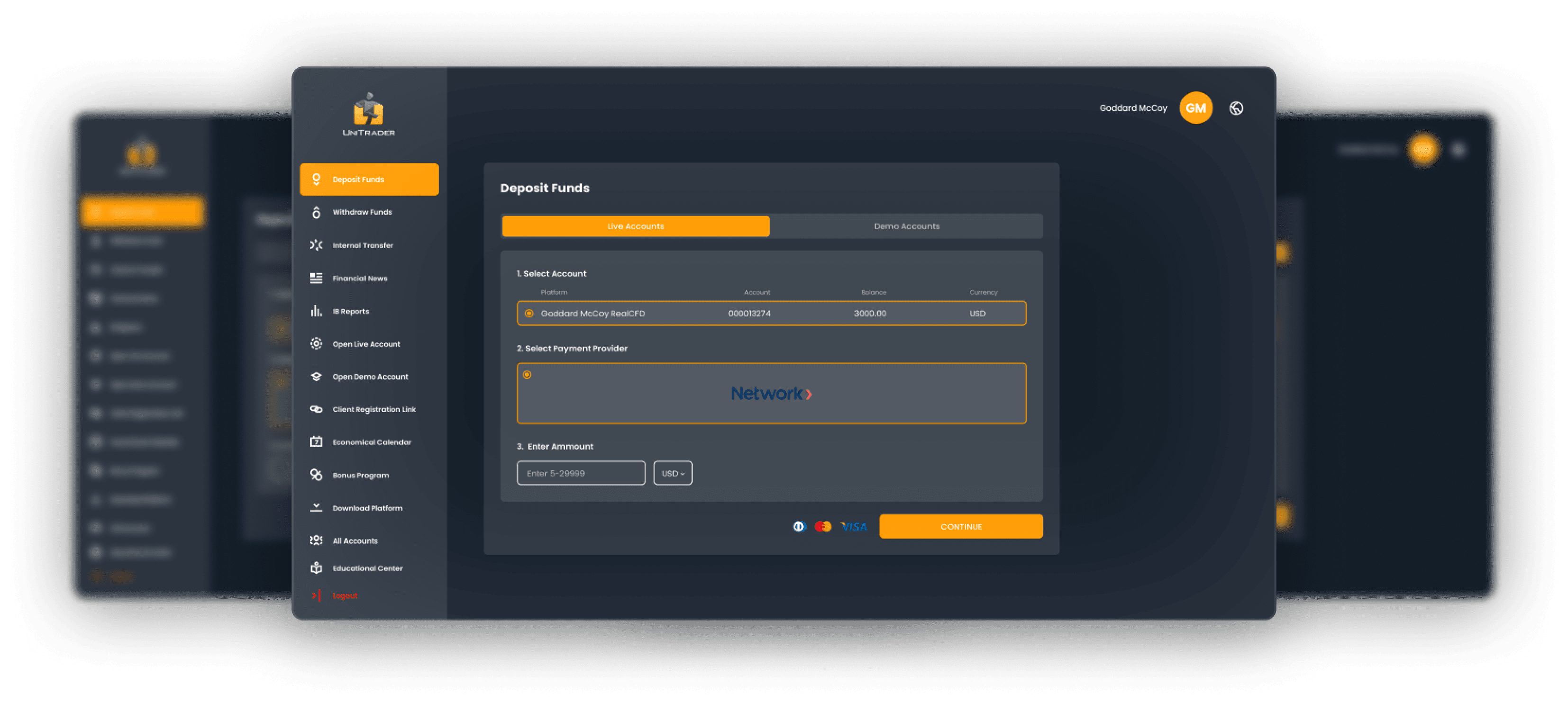 Client's Private Cabinet Module Interface
Easy to use back office designed by the traders for traders has all that it needs to welcome any novice or professional trader to its own online private cabinet with all necessary information, online banking, trading reports, bonus programs and much more.
UniTrader's private cabinet module makes any trader feel at ease while navigating the software, saving time for live support or answering basic questions.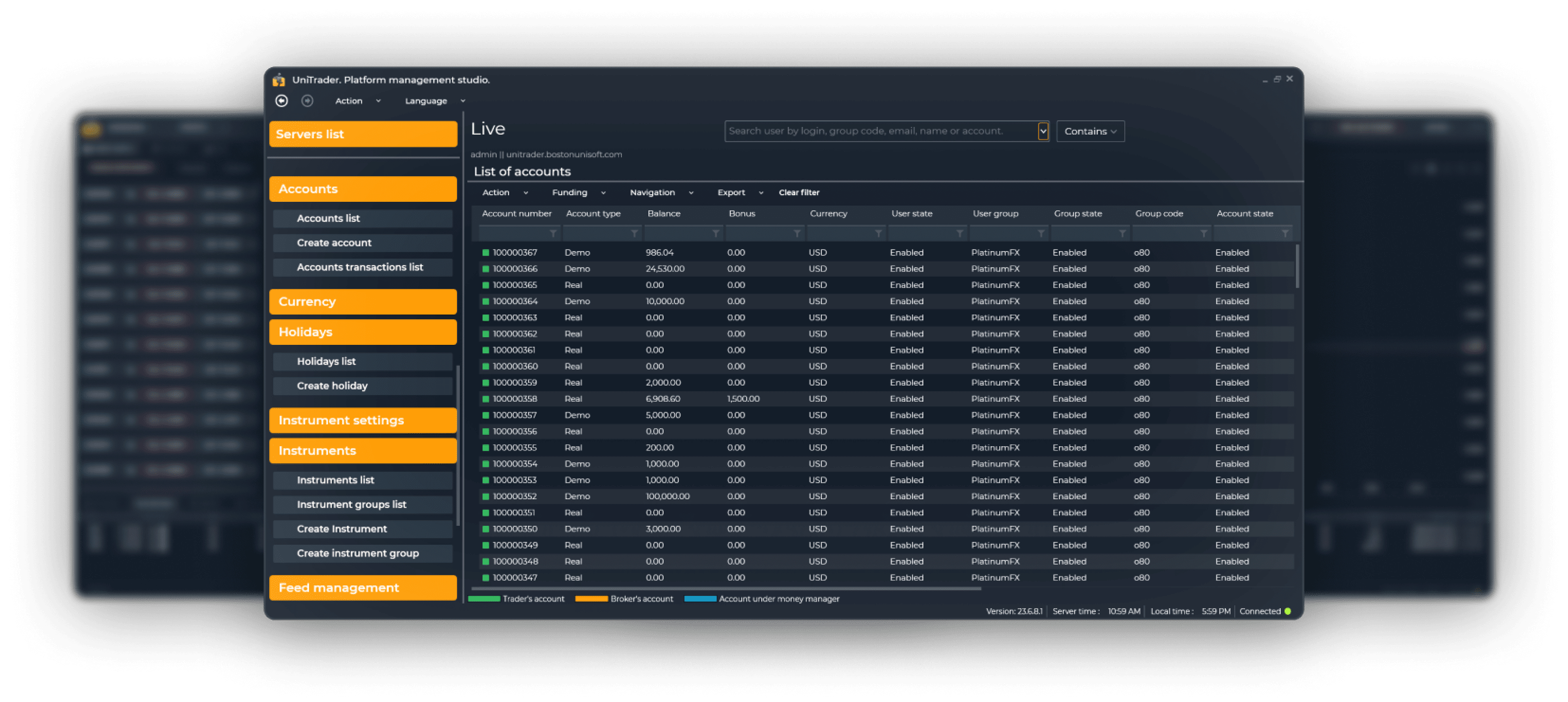 Company/Brokerage Back Office, Operations Module Interface
UniTrader is introducing a state of art Back Office module to the brokers and market makers that offers it all.
From accepting and managing traders, managing the KYC and AML process, P&L reporting, linking online payments directly with the platform and setting up customer spreads, swaps, financial instruments as well as managed groups, the flexibility and sophistication of the Back Office module are unparalleled in the industry.
The Open PNL Picture offers to analyze each customer's trading patterns and identify potential risks to the company.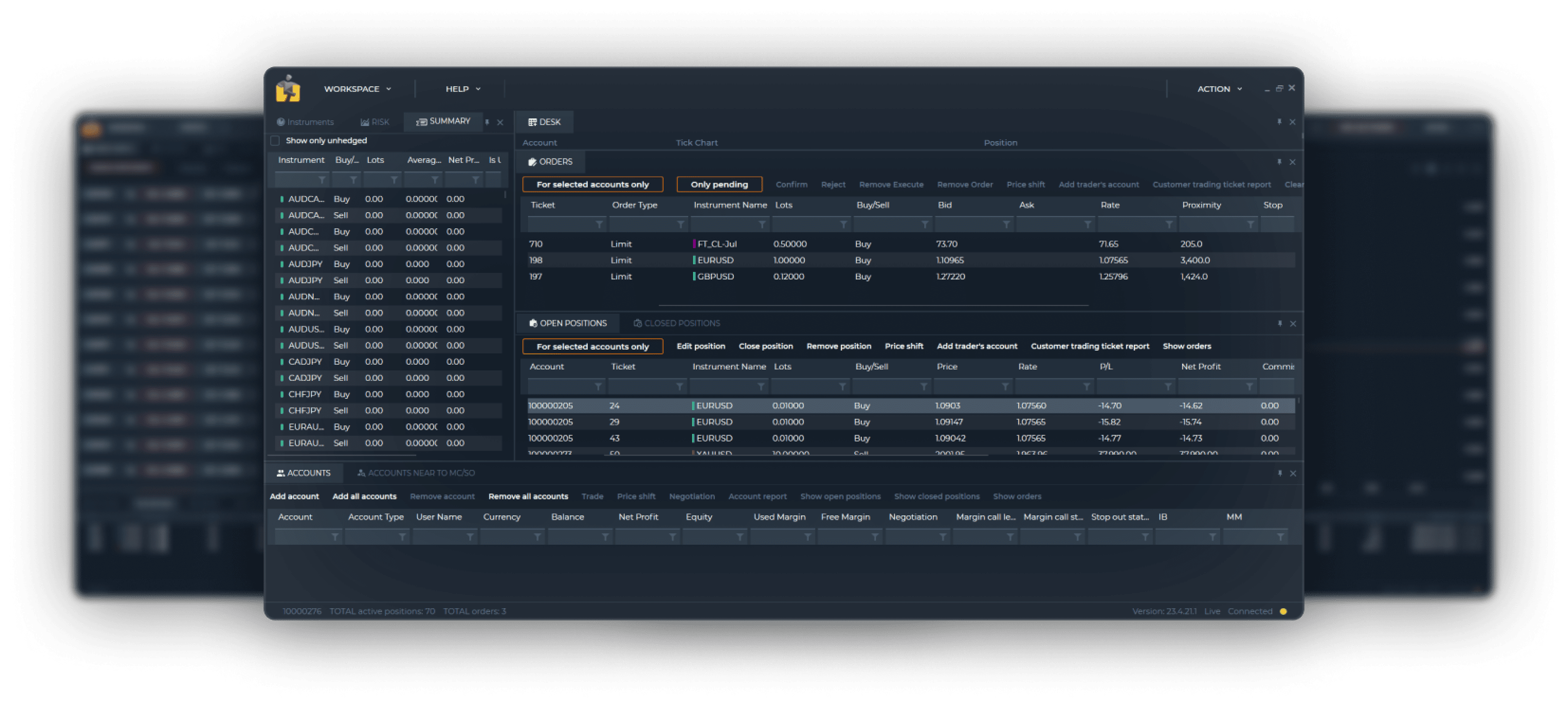 Risk Management Module Interface
UniTrader's Risk Management module is an aggregation of 20 years of Forex and CFD's OTC industry's experience dealing with volatile financial markets, unstable feeds, market news and predatory scalpers.
The market makers can select and choose any form of managing their customer's trading flow, from fully automated to a manual kill switch. Your dealing desk will have all the needed tools to operate and defend your business.
The sophistication of the P&L second-by-second reporting is unparalleled in the industry.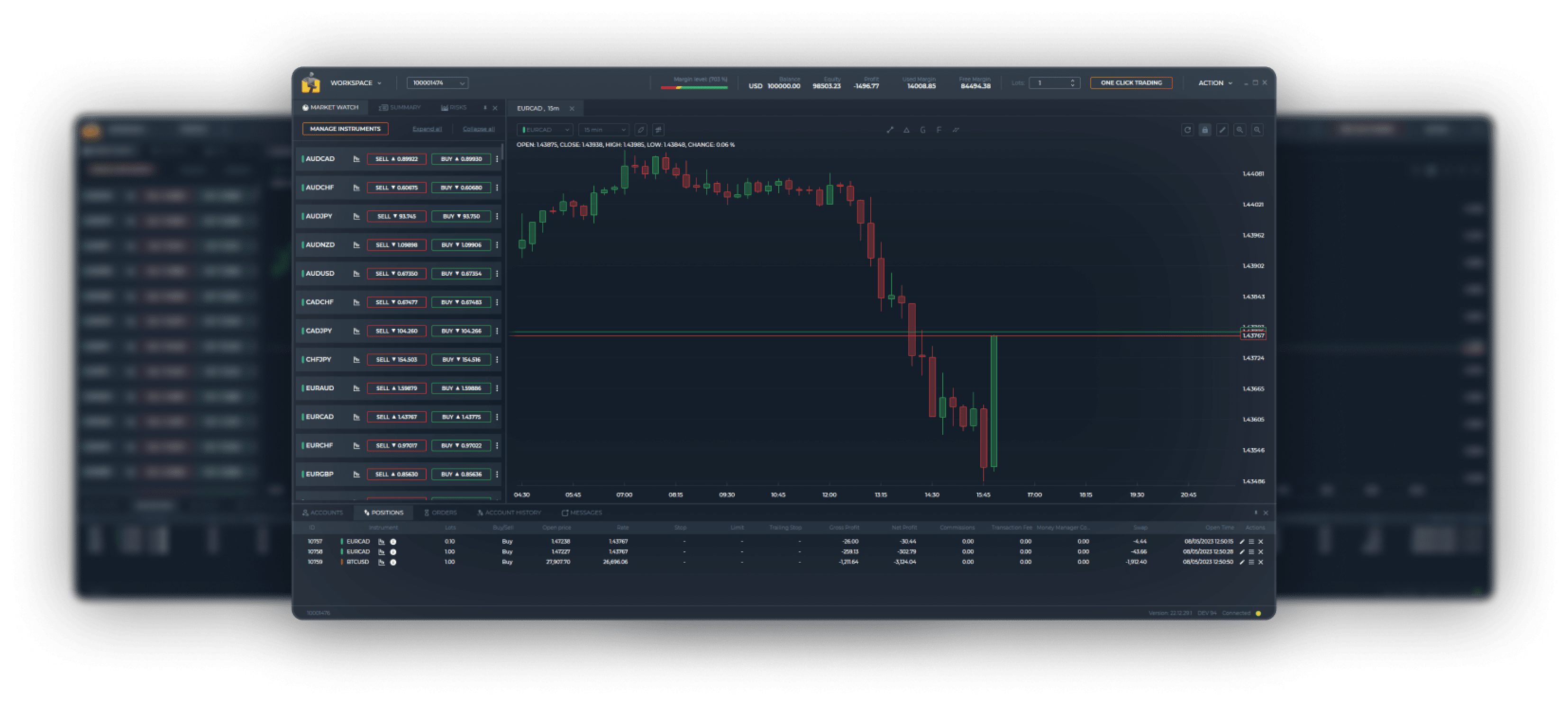 UniTrader Client's Downloadable Trading Module Interface
Depending on the sophistication of a trader, UniTrader downloadable module offers exactly that. The software has all of the advanced trading functions that a professional trader would expect from algorithmic trading, stop and loss orders, one-click order and much more.
The UniTrader trader's interface is also a safe and welcoming place for novice traders that need to start with the basic functions of introducing themselves to the world of capital markets and trading.
Use it for your own customers or White Label it to your IBs or others, UniTrader offers full flexibility when it comes to helping you to grow your business.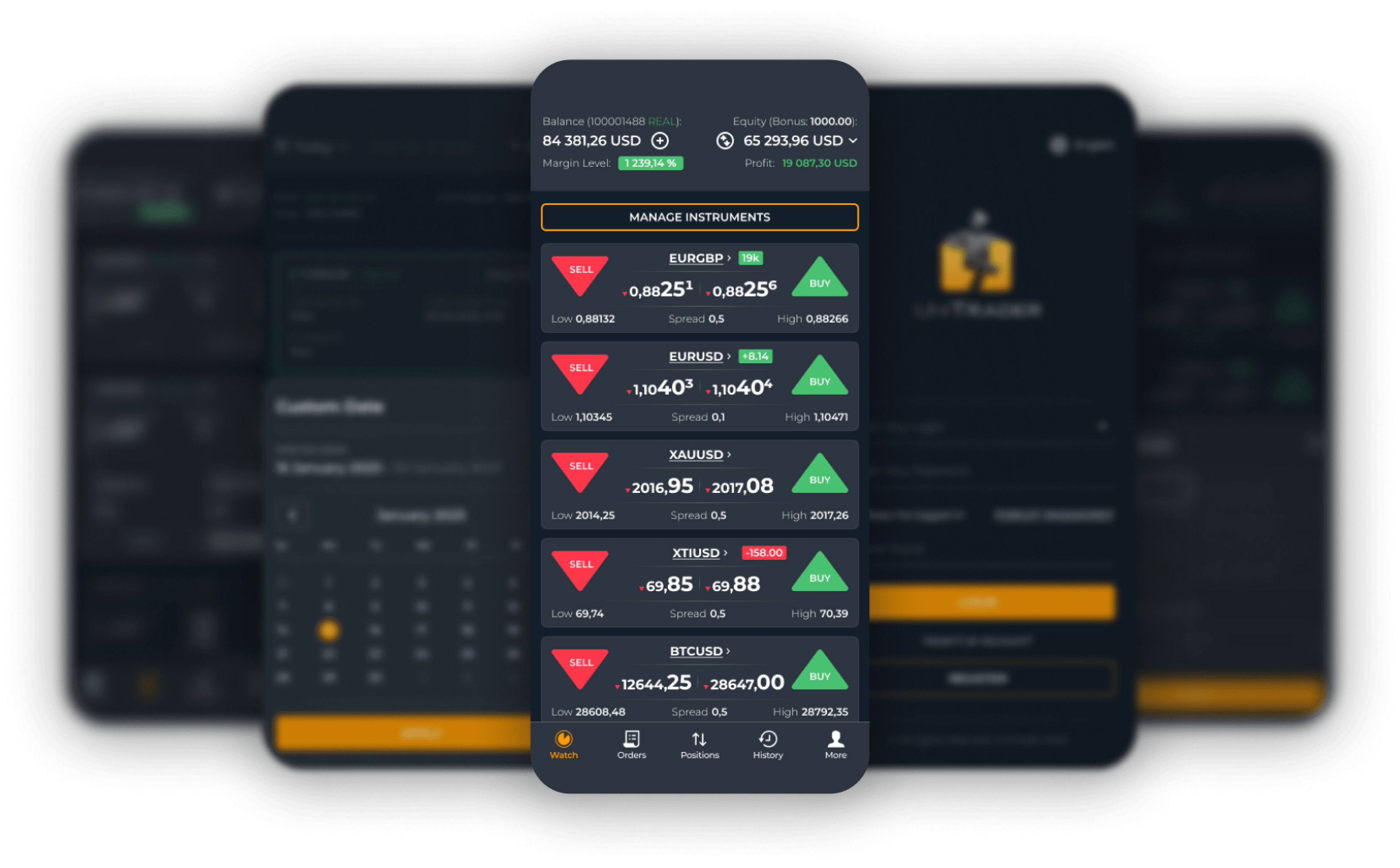 UniTrader IOS Application Interface
The sophistication of the downloadable module is offered through iPhone application.
Brand the application with your name and have it available on the App Store. Use the app to reach a broader customer base and keep your own identity. You can White Label the Apple application to your IBs or others.
Boston Unisoft Technologies will help you to navigate the process and build your relationship will Apple. (Apple policies, procedures and restrictions apply).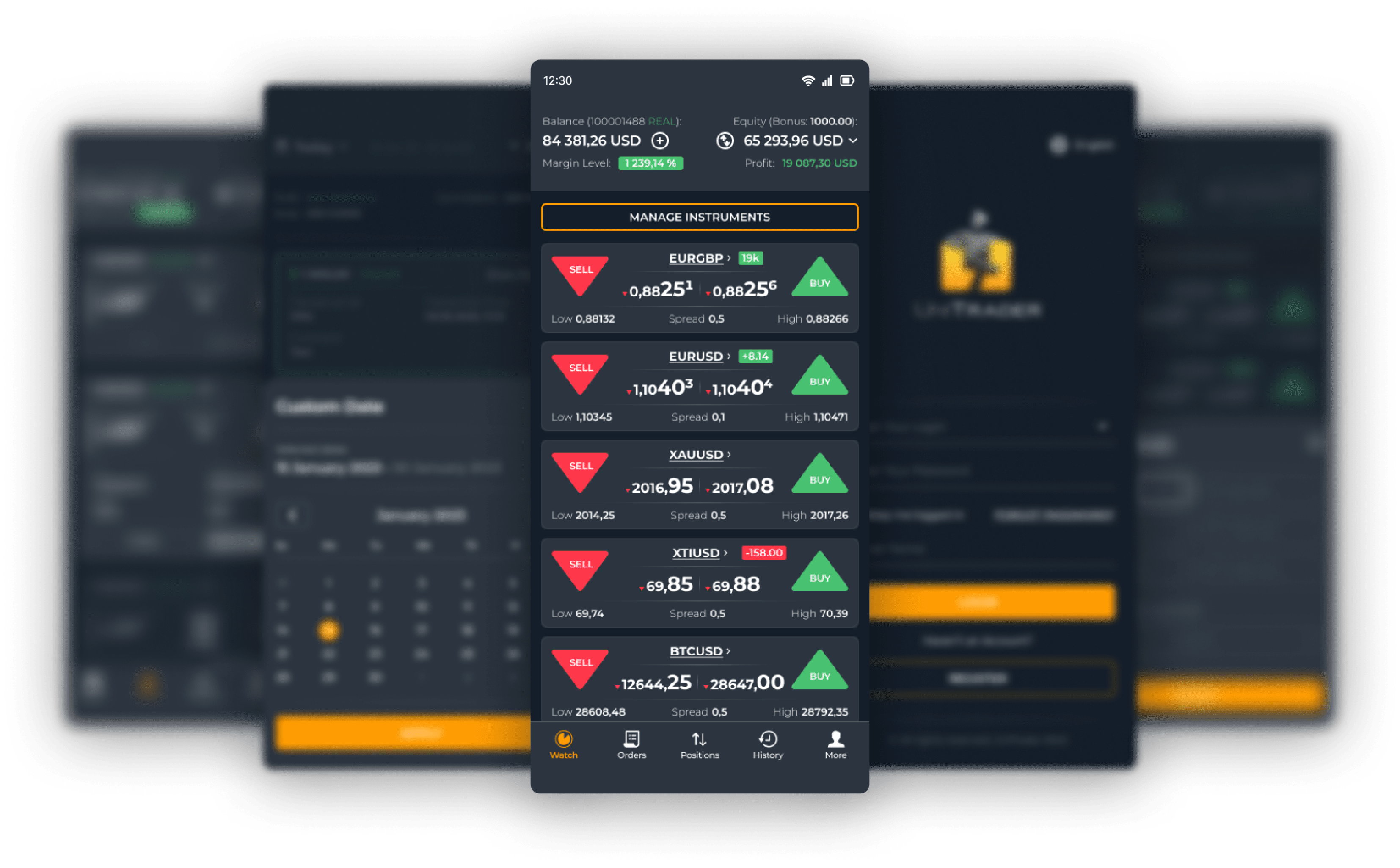 UniTrader Android Application, Interface
Upload your trading app on Google Play and extend your marketing reach to millions of Android phone users.
Every feature of UniTrader downloadable trading platform is available through the Android app.
Same with the Android application, you can White Label the application to your IBs or others and we will help you with the process. (Google policies, procedures and restrictions apply).
Want your own platform?
Leave your contact information and we will contact you to discuss details