Progressive Web Apps
Beat Competition in any Niche with a PWA
You do not have to select between mobile or desktop application development or make an impossible choice between iOS and Android. Progressive web apps (PWAs) have come to stay and make digitalization of your business quick, effortless, and affordable. Instead of creating a new product, progressive web development enables you to transform an existing website into a high-performing and user-friendly solution that looks and feels like a native application.
Whenever a user first downloads your progressive app, their mobile or desktop device stores the data locally. As a result, further use is lightning-fast. PWA apps load times are significantly shorter than those of traditional websites, even if they rely on a responsive design.
Moreover, mobile and desktop progressive web apps do not require an Internet connection for operation. As a result, users get instant access to your application, even in remote locations without available Wi-Fi networks.
Another benefit of progressive mobile apps is their recent introduction to the market. While there are already millions of Android, iOS, and Windows applications, progressive solutions are few and far between. Google is supporting the new technology, ranking PWA-powered websites higher than any other offers.
The combination of these factors makes progressive app development an efficient way to transform your online presence and drive business opportunities. Companies, such as AliExpress, 5miles, and eXtra Electronics, have seen increased traffic, conversion rates, and sales. Both digital-natives (Twitter, Tinder, Instagram) and incumbents, such as Washington Post, have already made the switch to progressive web applications, and you can join the first adopters and beat the competition.
Boston Unisoft Technologies (BUT) is here to help your business join the ranks of the best progressive web apps.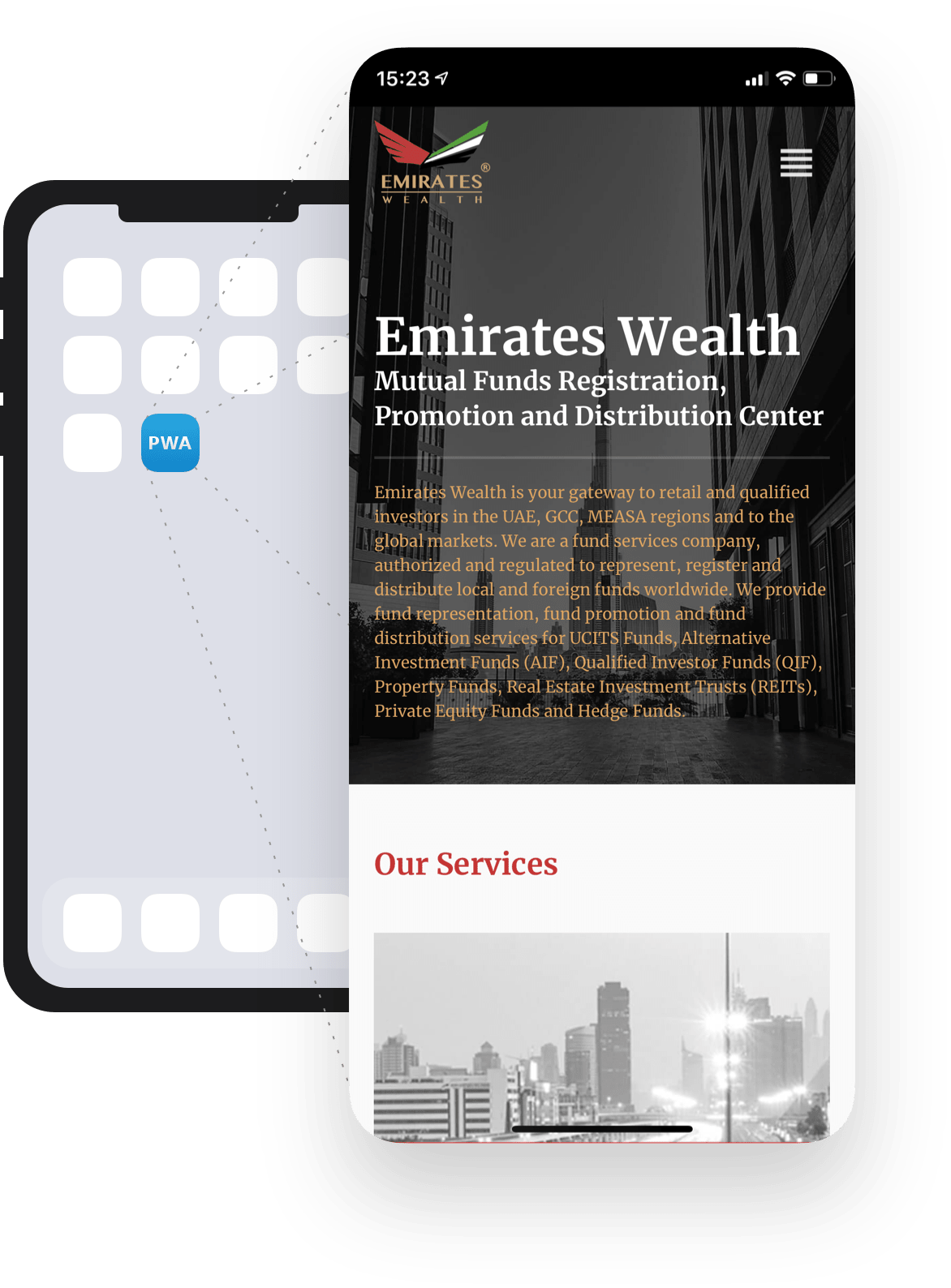 Reliable Progressive Web App Development with BUT
ORDER NOW
Boston Unisoft Technologies team possesses over eight years of mobile and web development, and our combined expertise makes it possible to create top-notch progressive applications that meet industry standards and secure high rankings. Using technical and business know-how, our designers and software engineers will build your progressive app for Android, iOS, or desktop to drive traffic and revenue.
When you hire Boston Unisoft Technologies team to create a PWA web app, you enjoy
Business acumen and outcome-oriented approach. Boston Unisoft Technologies is not just a tech team to cobble together progressive web app push notifications or deal with navigation issues. We focus on your business goals and help you achieve them.
All-in-one software development experience. Our experts will take care of design, development, quality assurance, and launch for you. You can also rely on the BUT team for post-launch support and ongoing updates.
Well-rounded experience across a variety of industries and niches. Our clients represent the best and brightest in every market, and you can see our proudest accomplishments in the portfolio. BUT is the right choice whether you need a progressive driving app, retail shopfront, or customer area.
Secure development that meets the latest industry requirements and regulations. We keep a hand on the pulse of trending technologies and solutions to make your progressive web app for Android or iOS user-friendly, fast, and bug-free.
Shall We Start Your PWA Development?
Fill in the contact form, and our business analyst or project manager will get in touch to discuss how our progressive web app development services can help your business. The more details you provide, the sooner BUT experts will prepare actionable development suggestions for you.
You can also call us and learn more about our progressive web application development workflow. Boston Unisoft Technologies experts will analyze your business needs, suggest the best technology stack, and estimate the budget and time necessary to implement your vision.
Let us help you transform your website into a progressive web solution that will drive sales and increase profit!
Still Need IT Services And Comprehensive Support? Contact BUT Today!
Need website development, want to create an app for your finance business, or simply need some IT support from a reliable service provider? Contact BUT via telephone or the online website form. Our friendly team will be more than happy to assist.