Mutual Funds, Asset Management, Funds Administration
The complete mutual funds' distribution software package is designed specifically for retail investors.
Whether you are a mutual fund, reseller of funds, or asset manager, MFTrader offers full interaction between your retail customer and your investment products.
Use MFTrader to manage the retail distribution of your own mutual funds or link it to over 100,000 global mutual funds.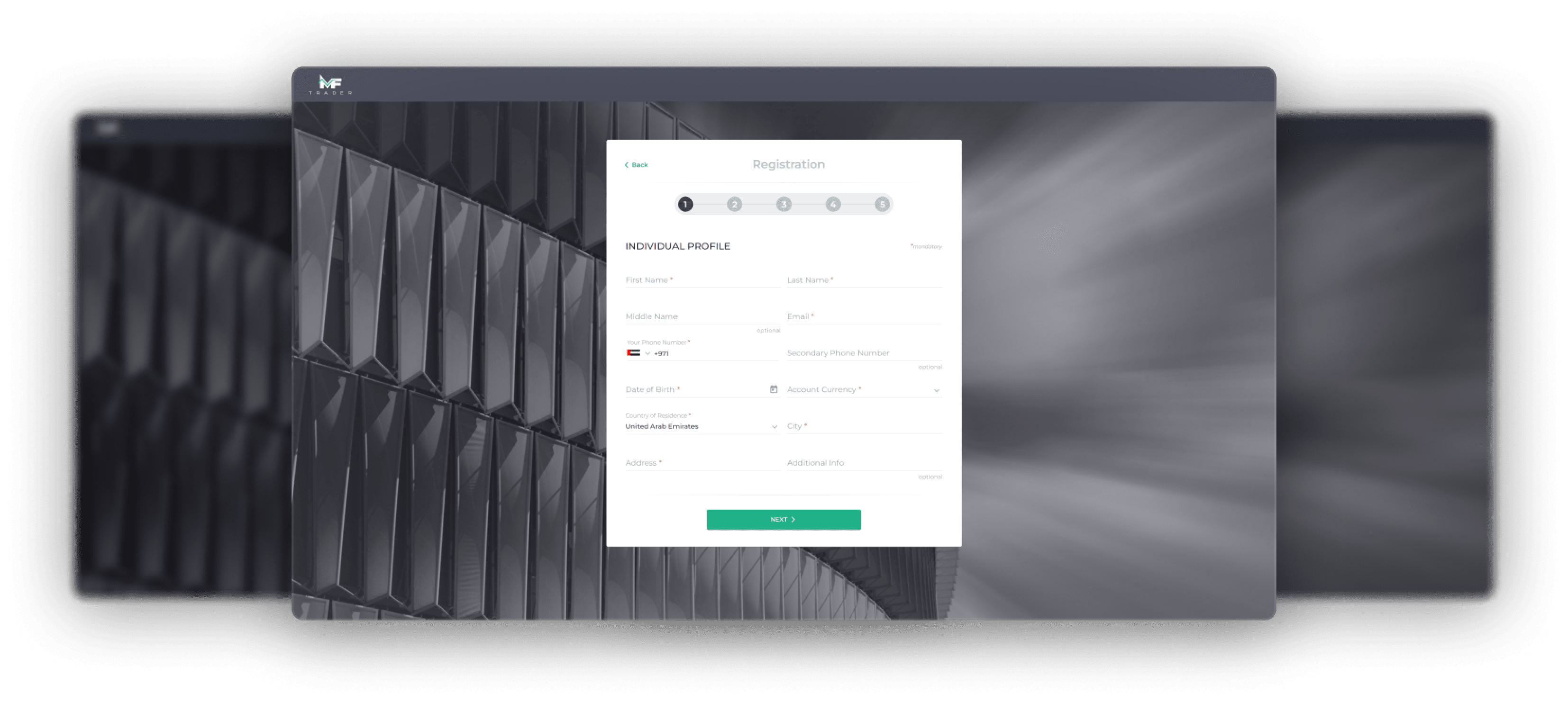 Client Onboarding Module Interface
Depending on your regulatory and compliance requirements we offer custom client onboarding.
The onboarding module can be shaped to accommodate any onboarding process based on your requirements and local regulations.
From proof of ID and address, the client's investment knowledge and experience level and online signing of all risk warnings and account opening documents, MFTrader's flexible onboarding module offers it all.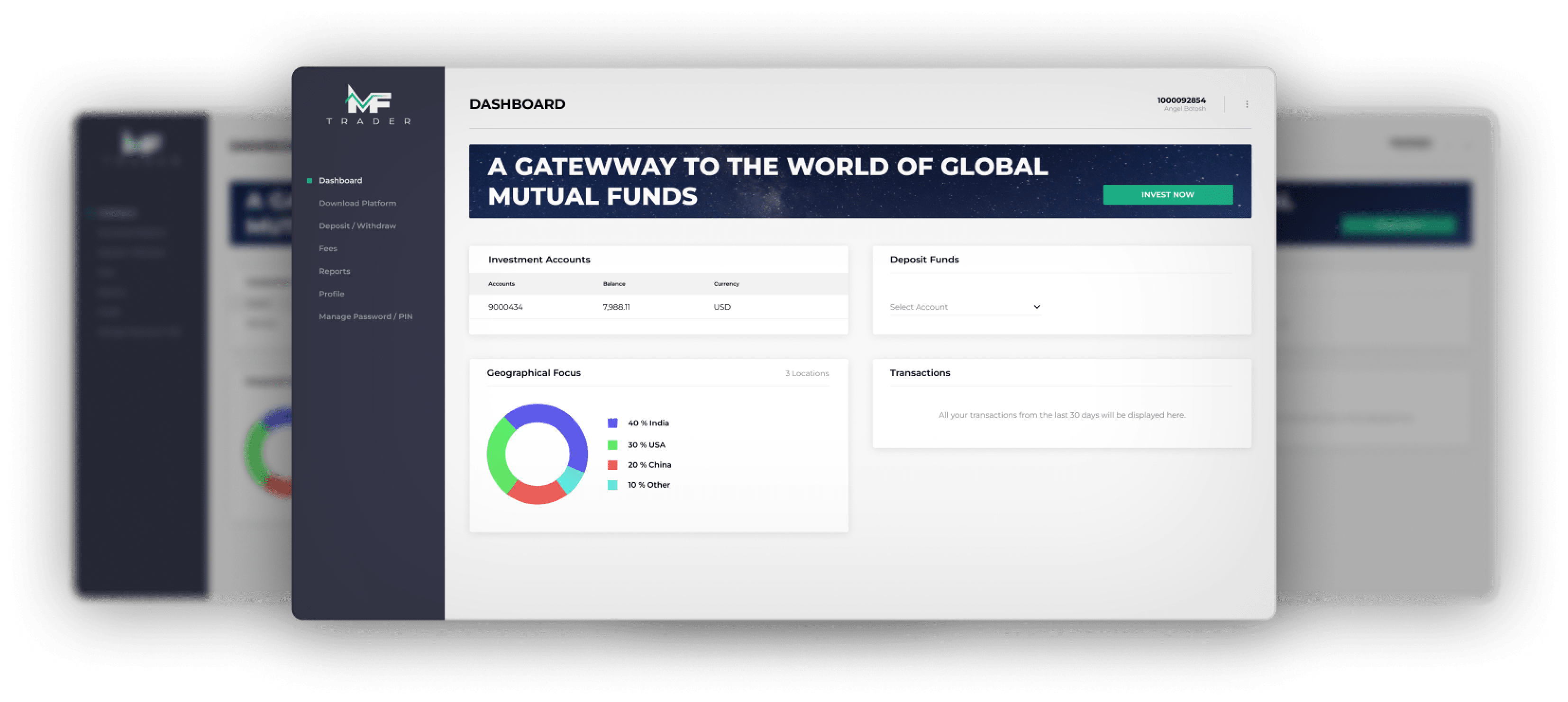 Client's Private Cabinet Module Interface
Easy to use back office designed to inform investors with information on just a few or thousands of mutual funds.
The back office has all that it needs to welcome any novice or professional investor to its own online private cabinet with all necessary information, online banking, investment reports, the latest NAVs and much more.
MFTrader's private cabinet module makes any investor feel at ease while navigating the software, saving time for live support or answering basic questions.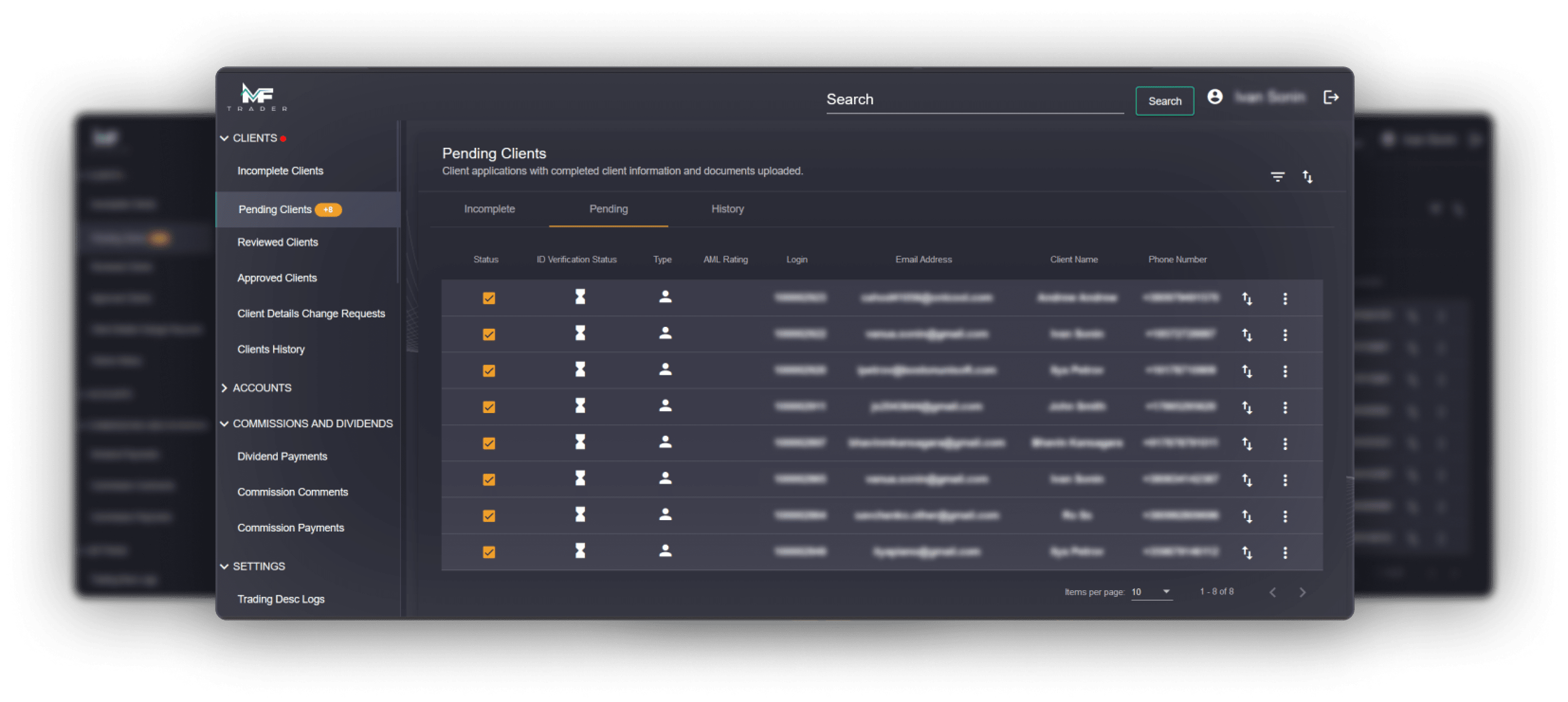 Company's Back Office, Operations Module Interface
MFTrader is introducing a state of art Back Office module to manage a retail distribution of a single or thousands of mutual funds.
From managing investors' onboarding KYC and AML process, multicurrency NAV and P&L reporting, and setting up custom funds or with available ISINs the flexibility and sophistication of the Back Office module are unparalleled in the industry.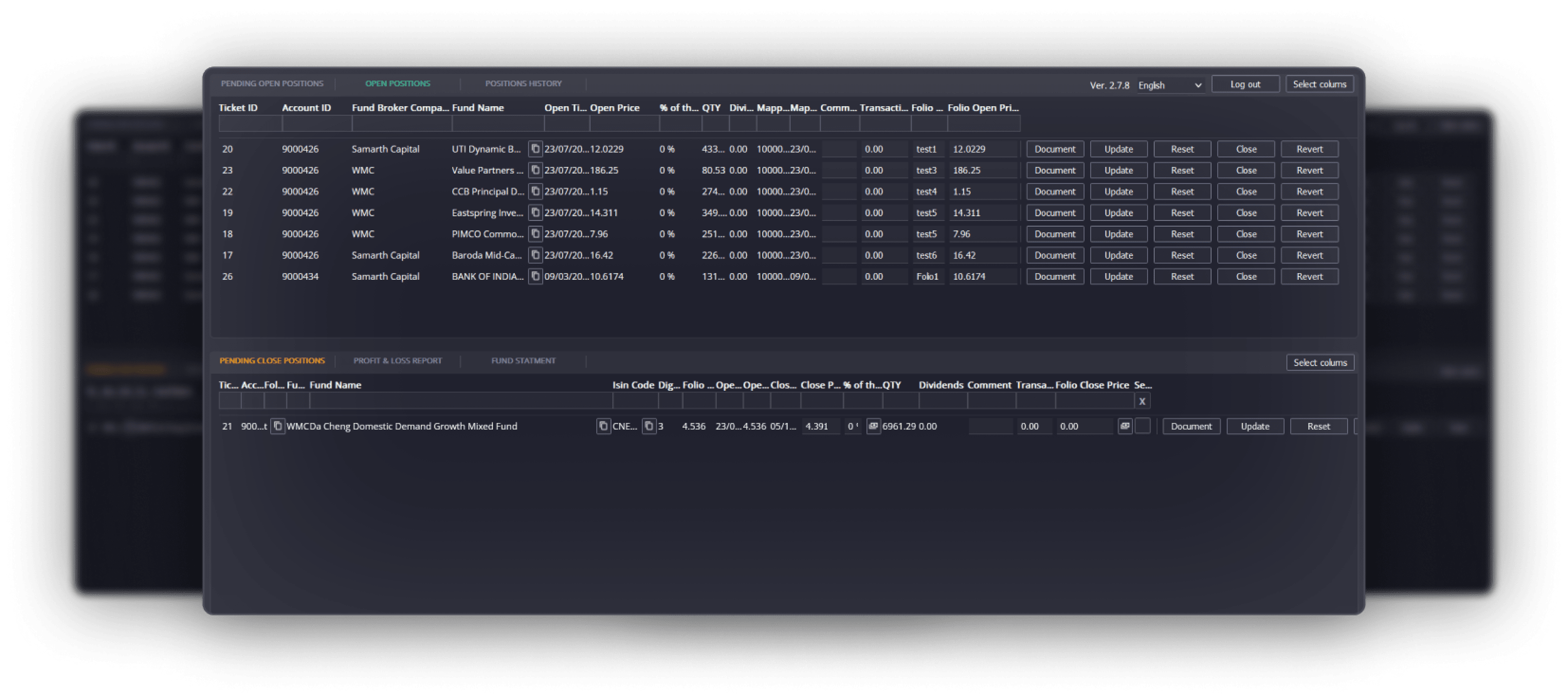 Risk Management Module Interface
MFTrader's Risk Management module manages open or closed investor positions or matches back-to-back hedges depending on the business model.
The NAV's price precheck mechanism allows the dealers to accurately price every deal with the base currency of a fund.
The daily Mark to Market multicurrency reporting nets P&L into a single reporting currency chosen by the company.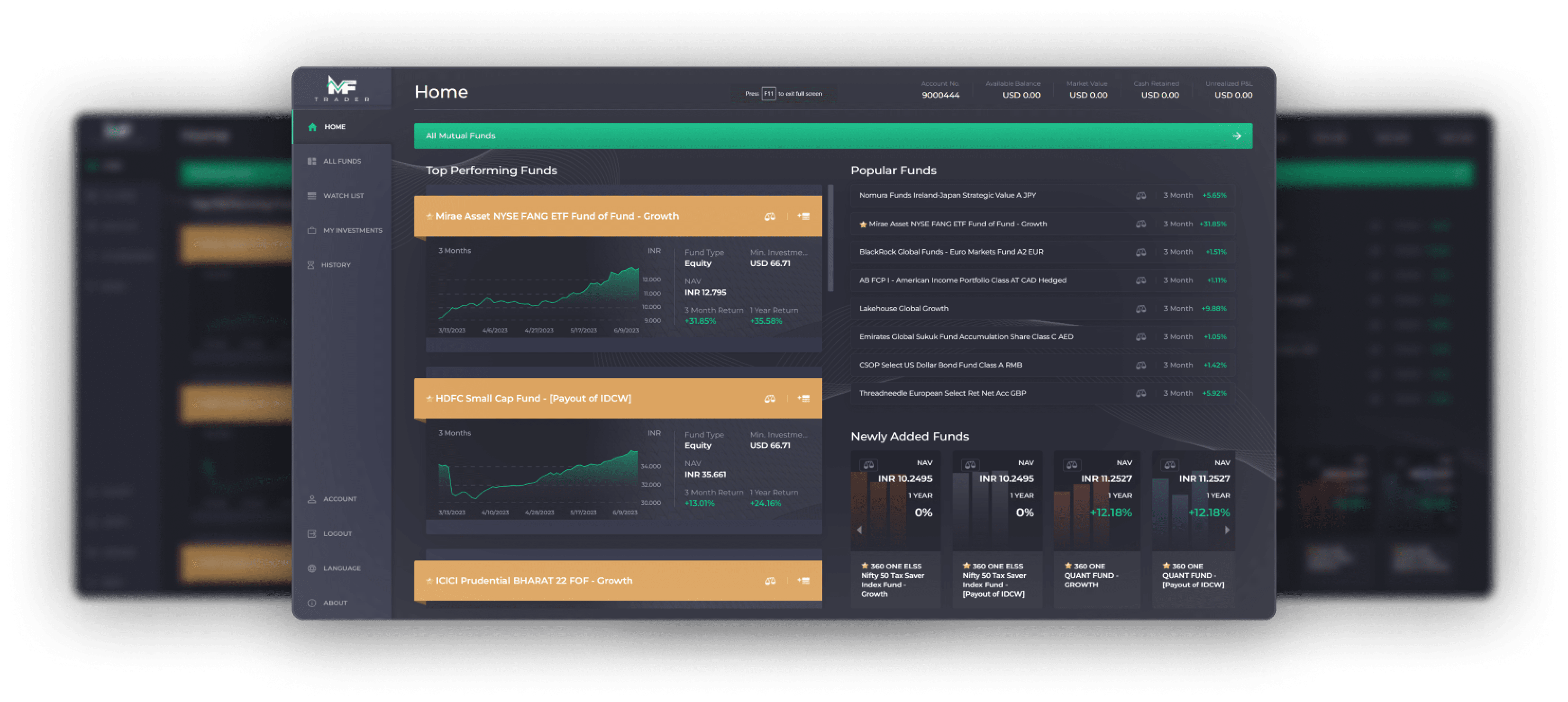 MFTrader Investor's Downloadable Trading Module Interface
With over 300,000 mutual funds worldwide, MFTrader is the answer when it comes to sales and distribution to retail investors.
From families of funds where there are only a few funds to families with thousands of funds with multi currencies NAVs, the trading module interface is the logical answer when it comes to displaying all relevant information about the nature, composition, and historical value of the fund to the investors.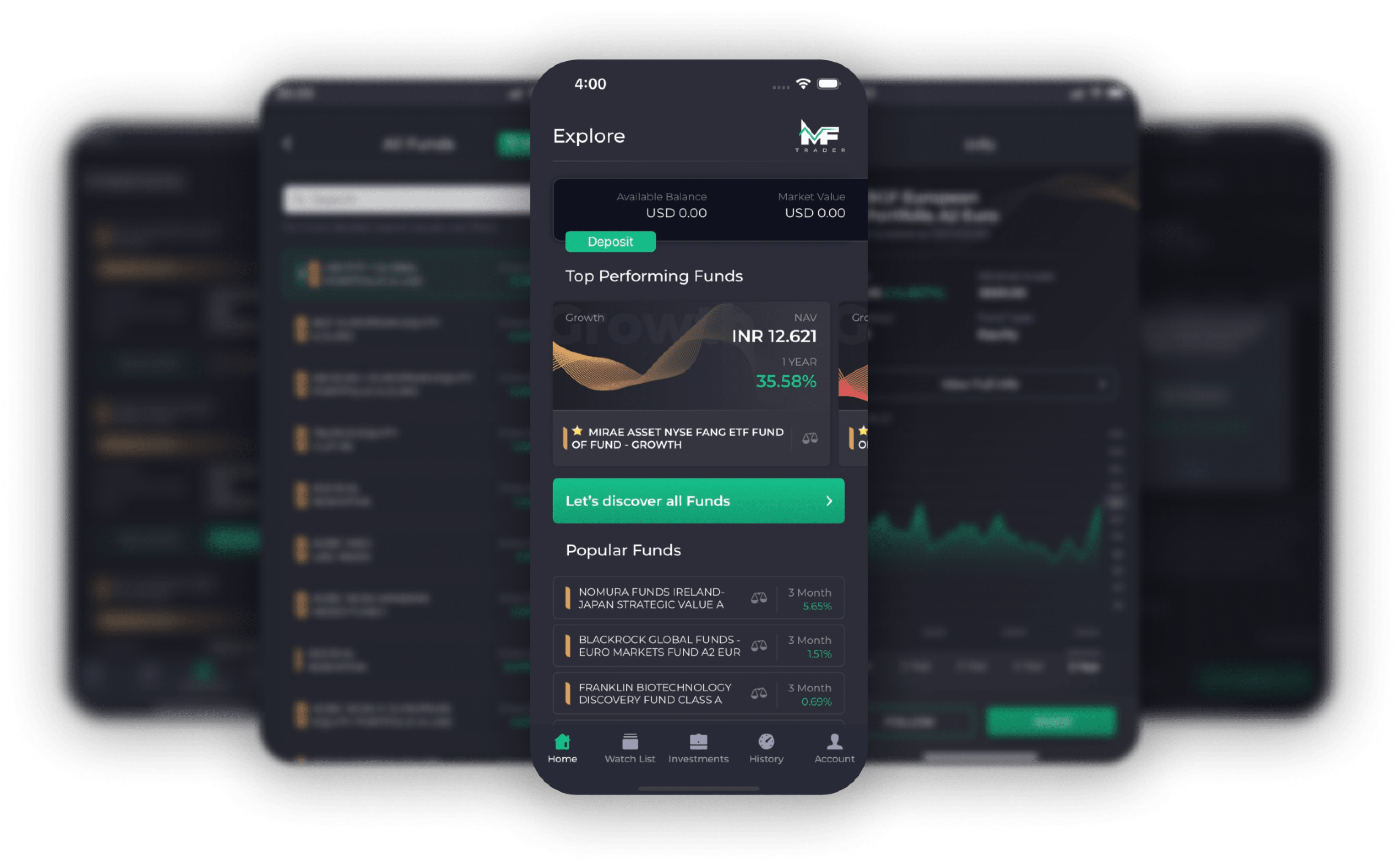 MFTrader IOS Application Interface
The sophistication of the downloadable module is offered through iPhone application.
Brand the application with your company name and have your funds available for distribution on the App Store. Use the app to reach a broader customer base and keep your own identity.
Boston Unisoft Technologies will help you to navigate the process and build your relationship will Apple. (Apple policies, procedures and restrictions apply).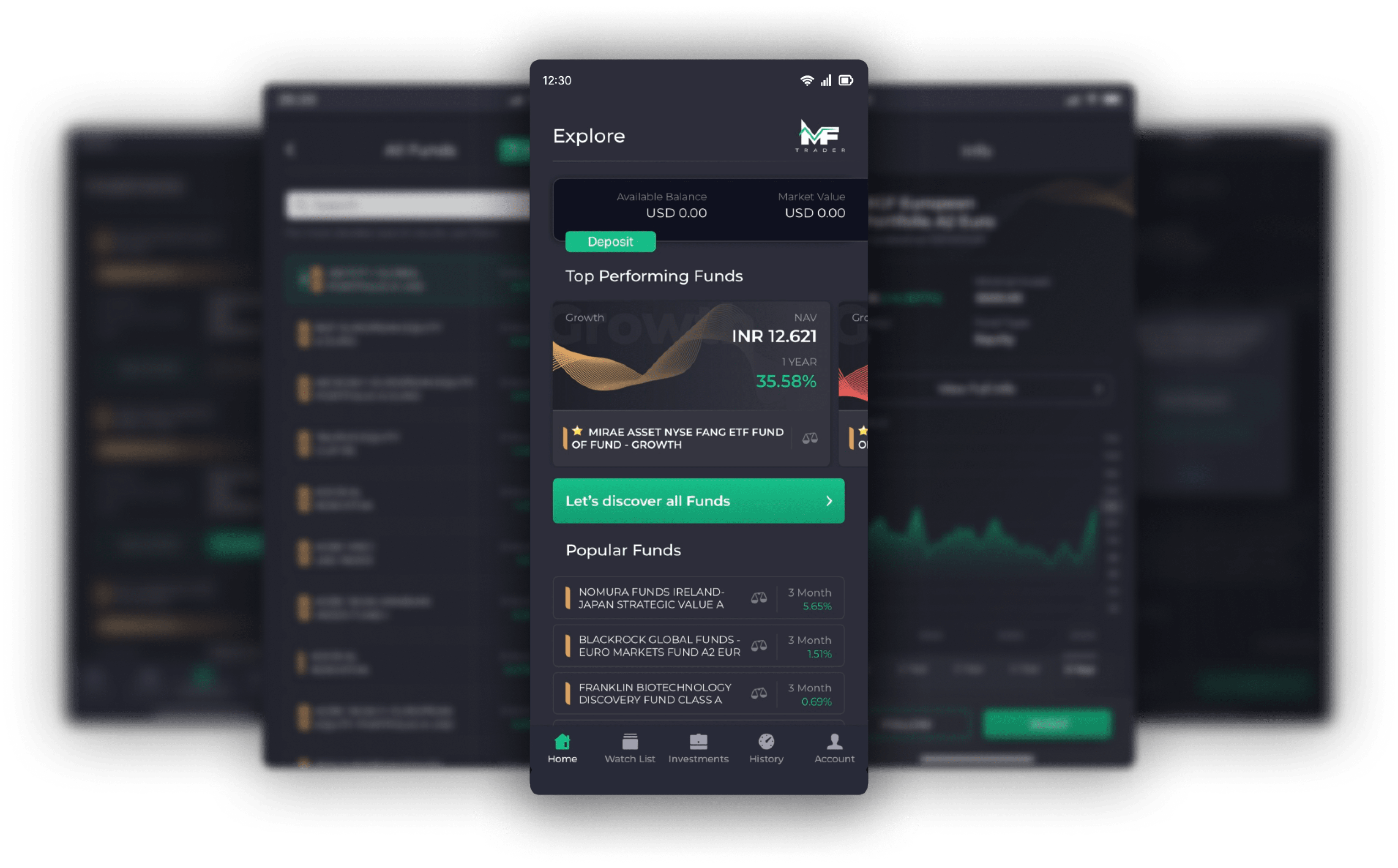 MFTrader Android Application Interface
Upload your funds' distribution app on Google Play and extend your marketing reach to millions of Android phone users.
Every feature of MFTrader downloadable trading platform is available through the Android app. Boston Unisoft Technologies will help you with the process. (Google policies, procedures and restrictions apply).
Want your own platform?
Leave your contact information and we will contact you to discuss details