Banking Technology Trends To Look For In 2021
« Back to Blog page
If you're dreaming about beating your competitors and becoming a front runner in the banking sphere (and who isn't dreaming about that?), then this article about banking technology trends for 2021 is for you. Keep on reading to find out what banking technologies to invest in, what systems to strengthen, and what departments to close down in the post-pandemic time.
The world-wide coronavirus pandemic has influenced almost every aspect of humans' life, and the financial sphere is no exception. The virus changed our habits and forced us to find new ways to solve mundane tasks. Let's take a look at some latest statistics that reflect the pandemic's impact on the banking sector that is already shaping new trends for 2021 and beyond.
How Covid-19 affected the banking sphere
200% jump in new mobile banking registrations in April 2020
85% of mobile banking traffic rise
40% of consumers surveyed expect to return to bank branches after the lockdown
71% of surveyed US business leaders concerned about Covid's financial impact, including effects on results of operations, future periods, and liquidity and capital resources
The statistics show that the pandemic and its consequences are here to stay. To survive, modern banking establishments have to adapt to the current situation and do it fast.
Banking technology trends for 2021
Below, we consider the top four banking technology trends shaped by the Covid-19 pandemic and its impact to help your financial business survive and stay competitive in the arena.
Follow the link to learn about Mutual Funds Trading Software and stay up to date with the latest fintech solutions.
Enforced hardware infrastructure
As the number of users and requests grow, banking solutions need to be prepared for the more massive traffic load. It means you need to check every nook and cranny of your software solution to make sure that the system not only can handle the spikes of traffic but is also secure during these spies.
Here are a few ideas you can use to ensure the stability of your software solution during traffic spikes:
Perform load testing. In case you already have a software solution in your banking establishment, you can hire a reliable external testing team to perform a range of load tests. Such testing allows you to assess the maximum load for your solution, detect all bottlenecks and weaknesses of the system, and work out a plan to eliminate them.
Contact your hosting provider. It's very important to understand the maximum scaling capabilities your hosting can provide you with. Find out what tools the provider has at its disposal and how fast it can react to the spikes.
Use a content delivery network to distribute static elements of your website and your website content to the different servers around the world. Thus, your users can load website content from servers that are closer to them and decrease the load time. This is how you can protect your server from traffic overloads.
Think the architecture through. If you're only going to build a banking system, you need to consider the architecture of your program seriously. Buggy, unstructured code can't effectively counter traffic spikes and guarantee the security of your software solutions. When looking for a development company, make sure you choose an experienced team with in-depth knowledge and experience in the financial domain. Ask the team about the development approach, tools, and technologies it will apply to create for you a secure solution that is stable under any conditions.
Powerful DDoS protection
Users' data has always been a strong incentive for hackers. While banks experience more users' requests than ever, hackers are using all known and new ways to find weaknesses in banks' systems. Yet, DDoS remains one of the most popular types of attacks, the number of which increased dramatically during the lockdown time. Here are the results of the Neustar study released on HelpNetSecurity.com. HelpNetSecurity.com
The same source claims that one in ten banks' CEOs can't even tell if the attack was successful. Although DDOS attacks are usually very short, the successful attempts open the gate to much serious malware to be rolled out into your banking software solution.
Here are some ideas on what you can do to protect your software solution from DDoS and other sorts of attacks.
Rigorous analysis and check of all the security systems. The proactive security approach is much more effective than the active and even reactive one. It's more important to prevent attacks than to have a great plan to deal with its consequences. To prepare yourself for 2021 and ensure your users' data is safe and sound, start with the overall inspection and vulnerability scanning. After the inspection, you can fix all the found flaws in your security system.
Real-time system monitoring. By implementing a real-time monitoring system, you can get a full overview of the threat landscape, including timely identification of high risk and weak areas, and react to the threat correspondingly.
More cybersecurity personal. In 2021, it's no longer enough to perform regular training with your staff and keep your team informed of the latest security threats. If you want to get more control over your software security, you need to consider creating of a cybersecurity department to gradually improve the security of your software and prevent all possible attacks.
Read also how to build a custom P2P money transfer app.
Effective CRM solution
The pandemic has shown that even well-established giants can fall. The competition for each client is fierce. This is why you need to make sure that your customer relationship management solution works like a Swiss watch. Here what you can do:
Check all the integrations within your CRM solution. Lost data means lost customers. If you're using, for instance, a voice calling or emailing service integrated into your banking CRM, you need to make sure that these solutions exchange data with your CRM seamlessly, and no bits of information are lost.
Use an all-in-one solution. It's much more effective (and cheaper) to use one software solution for your banking business than several different solutions. It is because adjusting smooth data exchange among different programs is always harder. If your CRM, ERP, and other programs are from different software providers, you are very likely to face a lot of obstacles trying to set up efficient data flow.
Educate your staff to get a better understanding of banking CRM. Investment in employees who work with your custom banking CRM solution is a must in 2021. No matter how much money you've spent on a sophisticated software solution, it's useless if your workers don't understand how to use it effectively. If you want to retain as many customers as possible, you need to find a way to streamline and automate employee onboarding processes. For instance, BUT creates a one hundred percent electronic onboarding system that allows all users to register using no paper at all.
Outstanding customer support
The rise of online customers and requests brought not only security concerns but also higher expectations of excellent user experience. It was estimated that more than half of users leave once they have trouble with a brand. Such a high churn rate proves that modern customers are highly demanding and expect the best services ever.
If you want to stay afloat in 2021, you need to think about the ways to make your customer support better and services outstanding. Here are some ideas for you:
Implement a high-quality virtual assistant. The Juniper research reveals that chatbots can save up to 800 million hours and more than $7 billion for banks in 2023 while keeping the quality of support on the same or even higher level. By implementing an AI-powered chatbot, you can save time and free your staff to perform more complex operations that require human intervention.
Use Machine Learning to personalize offers. Machine learning is not a new notion in the banking world. It's used for predictive analytics, risk assessment and analysis, and much more. Machine learning algorithms can improve your services by collecting data on users' habits and behaviors and providing customers with highly-targeted and personalized offers.
Help customers make better financial decisions. In the times when large enterprises and even counties are close to collapse due to the pandemic, it's time to consider alternative investments. Provide your customers with valuable financial insights and advice they can use to make better investment decisions and diversify their investment portfolios to protect themselves from what the future holds.
Read also about top 10 core banking software solutions.
Online and mobile shift
The last but not the least banking technology trend - mobile banking apps. It's difficult to say that the mobile banks and banks that have no physical branches are new. The first online-only bank appeared in 1997. By 2010 most major banks have already introduced their mobile apps. Nevertheless, in 2021, feature-rich mobile apps and branchless banks are going to win by a landslide.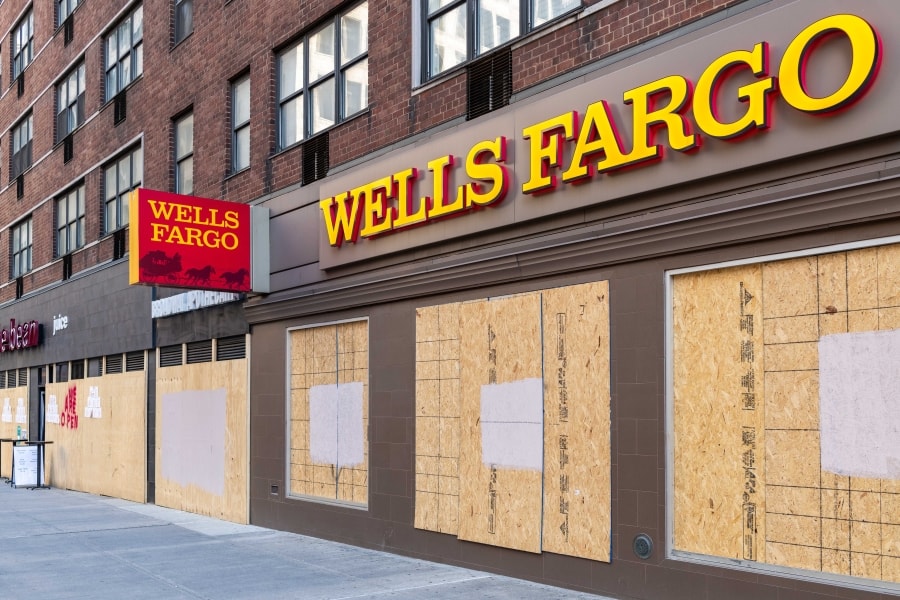 A lot of decision-makers in the financial industry predicted the end of brick-and-mortar banking before. And today, more and more banks are forced to move to the neobank business model simply to survive.
It's too early to say that physical banks will disappear in 2021. The statistics show that even though the Covid pandemic and the new lifestyle is likely to stick, the banks' branches are far from dead. Here are the most common reasons bank users want to return to bank branches when the stay-at-home mode is over.
The chart shows that there's still a lot of people who strive to return to physical banks when they are open. Nevertheless, until then, it's better to provide your users with all the services they could get in your brick-and-mortar branch via a mobile or a web app.
Wrapping up
Covid-19 is a modern bomb that blew up the entire world and affected banking technology trends and every company. Nevertheless, businesses that were agile and reacted first managed to not only survive but prosper as well. It's time to accept that the pandemic world is a new normal. The only question is what you're going to do about it
If you're ready to step into the new era, contact us, and let's start your fintech digital transformation today!