What Is A Mobile Banking Application?
« Back to Blog page
A mobile banking application is a platform that allows customers to carry out banking operations from their mobile devices without visiting a bank branch. You can remotely execute activities like deposits or fund transfers with mobile banking applications. Mobile banking technology brought convenience to the industry. For reasons like the covid-19, we will remain grateful the application for mobile banking arrived early enough.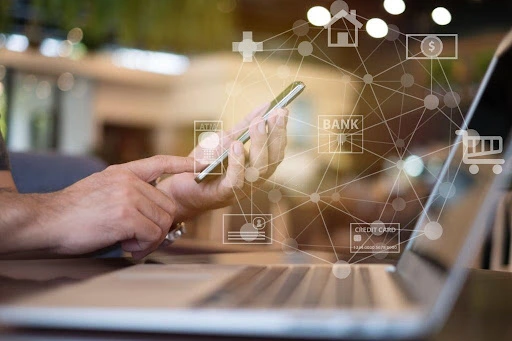 The development of mobile banking apps helps both banks and customers limit physical contact. While all sectors keep adjusting to a post-pandemic work lifestyle, mobile banking applications glimmer even brighter in their usefulness. The shift to mobile banking technology trends came as if the banking industry foresaw when remote operations would become necessary.
Arguably, mobile banking applications have been the highest technological leap in the industry in recent years. If not for any reason, at least for the ease in banking activities across all financial institutions.
In this article, we will answer the question, what is mobile banking and how it works? We will also look at the benefits of mobile banking.
What Is Mobile Banking?
Mobile banking is one of the services which a bank or a financial institution provides its customers to help facilitate remote financial transactions through mobile devices like smartphones, tablets, etc. Mobile banking runs on the wheels of mobile software known as apps which financial institutions provide for specific banking activities.
Mobile banking shares a close similarity with online banking because internet technology powers both. However, the core difference is that mobile banking functions on apps.
Mobile banking is a 24-hour service available to customers in most jurisdictions to conduct certain financial transactions that the app has been programmed to execute. Aside from the limit on the kinds of activities customers could complete remotely, other restrictions on mobile banking exist. For example, some banks or financial institutions limit the type of accounts or amounts you could access using mobile banking.
In other words, the banking activities you can execute using a mobile app depend on the features that the issuing bank or financial institution has made available in the bank. The most common services you can readily access through mobile banking include bill payments, P2P fund transfers, cheque deposits, checking your account balances, and a statement of your transactions. Depending on the financial institution and the app programming, you could download the list of your transactions to your mobile device and print it for offline purposes.
While it has other features that make it unique, the immediate value of mobile banking apps for banks is the ability to transfer some operations to the customers. In this scenario, the bank feels exceptionally relieved not only for the reduced traffic of customers to their branches but also for reducing operational costs.
On the other hand, the customers enjoy the convenience of banking right from the palms of their hands, which is the idea of the meaning and definition of mobile banking. The mere fact that banking is no longer limited by space and time is an irresistible luxury they appreciate. Unlike mobile banking, the alternative of visiting a bank branch limits transactions to only the hours the bank is open. Also, going to a branch has the exhausting experience of standing in queues, waiting for your turn to receive a service.
How Does Mobile Banking Work?
To understand how mobile banking works, you may need to consider the technological realities that made it feasible in the first place. Like all significant progress in the banking industry, mobile banking came as a natural consequence of advancement in technology. Think about the ATMs which followed the development of automated tech or the online banking which followed the internet.
In the case of mobile banking, phones became a fertile platform for financial transactions the moment people could use them for more than calls. The additional features like text messaging and internet access combined make the mobile phone an ideal medium for banking. Initially, mobile banking started with text messaging which allows customers to follow specific prompts to conduct a transaction. It subsequently grew to use advanced apps that run on operating systems much like computer software.
In addition to mobile phones having advanced features, about 240 million Americans use mobile phones. As a result, it was only a matter of time before mobile banking happened.Banks and other financial institutions have safety among their top priorities. So, how does mobile banking work, and what services can bank customers access with this innovation? Some of the transactions you can execute using mobile banking include:
Access To Account Details
Mobile banking has saved most customers endless trips to their banks for account information. With only a few taps on your phone, you can access your balances. Some apps even allow you to download your account statement detailing all the activities in your account for a specified period. Some banks or financial institutions enable clients to manage their insurance policies through mobile apps. In all, mobile banking presents clients with an instant history of their banking activities.
Aside from being an active diary of your banking activities, mobile banking readily helps clients conduct transactions like cheque deposits and fund transfers. In addition to basic bank-client operations, mobile banking allows you to pay bills for other goods and services you need. For instance, electricity or internet bills are a few of the transactions you could conduct using mobile banking.
Some financial institutions have even gone ahead to program their apps to permit clients to schedule regular payments. For example, you could schedule salary payments of your staff or the payment for particular goods or services you use repeatedly.
These days, customers only visit bank branches for customer services when they have no choice. Otherwise, most mobile banking applications have reliable customer support that is highly responsive and quick. For example, you can monitor the status of your loan applications or locate the nearest ATMs from your mobile banking app.
Some banks and financial institutions go as far as making their apps a news platform for customer engagement. For such banks, you don't need to travel to the bank to know the latest information and opportunities available in the bank.
For some banks, mobile apps can be more than just a tool to serve the customers' needs. For this reason, some mobile apps offer the opportunity for clients to conduct beneficial investments to add value to their money held in the bank.
What Are The Benefits Of Mobile Banking?
First, you need to know that the benefits of mobile banking are as limited as the number of restrictions and the limitations on the services a bank or financial institution delivers.
The benefits of mobile banking are:
In almost everything we do, we are constantly pushing for improvement. The opportunity to access essential bank services any time is one luxury banks cannot afford to deny their customers. In most banks apps, you can quickly make check deposits from the comfort of your room. The same goes for other banking transactions like bills payments and fund transfers. At any point during the day or night, banks and financial institutions make these services available to you on the go.
If you think about it, what is mobile banking, and of what use would it be if it can't operate 24/7?
Beyond convenience, the ability to access your bank any time from anywhere gives added security for your money. Mobile banking apps have a notification feature for unauthorized transaction attempts. The debate has always been if mobile banking is safe or not. How secure are mobile apps?
Of course, no security system is entirely foolproof. However, when you become aware of suspicious transactions on your account early enough, you are in a better position to save the situation from escalating.
Many mobile banking apps have two-factor authentication, which makes access to your account by unauthorized persons difficult. Some banks and other financial institutions provide multi-factor authentication that anyone wanting to access your account must pass through.
Also, you can control other banking technology like credit or debit cards in some apps. For instance, when you lose any of these, you can quickly turn them off through your mobile banking app. With this simple control, you ensure the security of your fund in case anyone who finds the card decides to use it.
Also, mobile banking helped to sustain banking activities and business transactions even during the quarantine when there was an absolute need for isolation. In addition to health security, some easily recognizable people might prefer how the anonymity of remote banking saves them from discrimination or other forms of stereotyping and biases.
Many mobile banking apps now have a feature that notifies you about opportunities to maximize the value of your money. Apart from alerting you on savings opportunities, some applications keep you informed when your bank is under the strain of a potential overdraft.
Also, you could track your spending by requesting the bank to notify you when your expenses exceed a specific limit. Some mobile banking technology has gone as far as offering features that could help reduce your bills.
These days, people only visit bank branches to transfer funds when the amount exceeds the bank app permits. You can quickly transfer money to someone else's account if you have his account number. Instead of using raw cash or IOU slips, mobile banking allows you to transfer money to another's account. The convenience pays off for both parties considering that not many people want to accept raw cash, especially if they could receive the same amount in their bank accounts.
Nobody visits the bank for pleasure. For that reason, most customers in the bank would rather not be there if they have a choice. Although limited, mobile banking seems to be the best choice that saves you the time and cost of going to the bank whenever you need to conduct a transaction.
The cost-saving features of mobile banking do not benefit the customers alone but the banks too. Many banks have realized they don't need as much staff as they used to with mobile banking. For this reason, banks could still get the same things done, achieve their goals, and even more without spending more on salaries. Mobile banking also offers a broader reach, and considering that it's a 24-hour service, banks have realized they are not closed for business even when they close for the day.
Customized Banking Alternative
Many sectors are striding slower than the growing acceptance of diversity and inclusion in different environments. Some banks and financial institutions are closing the gaps by tailoring mobile banking apps to accommodate or include recognized diversity. For example, some financial institutions are handling the banking challenges of the LGBTQ community with apps that cater to identity choices.
Mobile Banking Vs. Online Banking
What is a mobile bank, and how is it different from the online type? Online and mobile banking are often confused as the same thing because they share certain similarities. However, they are pretty different based on the medium in which they operate.
Earlier, we tried to distinguish between mobile banking and online banking. While both are primarily powered by internet technology, we mentioned that online banking runs directly on the web while mobile banking functions on software provided by the bank or financial institution. Based on this, let us take a look at both terms separately.
Online Banking
The basic features that define online banking include:
A secure website through which clients carry out financial transactions over the internet. In this case, you are dealing directly from the bank's website, which you can access with a computer or any internet-enabled device.
Most banks have physical branches, while some operate only online. For such banks, their website contains all the services they offer.
You must register an account and generate login information to use online banking.
Mobile Banking
Like online banking, you can conduct banking transactions with a mobile app. However, mobile banking has proven easier and more preferred because all it requires is your smartphone. While you can still log in to a banks mobile website with your phone to conduct bank transactions, the features that define mobile banking include:
The use of mobile apps
The use of text messaging prompts for bank transactions.
Develop your mobile banking app today.
Banking as an industry keeps growing, and no factor contributes to that growth as much as technology does. Today, you can virtually run banking operations from mobile software or apps.
While this has its challenges, the benefits are overwhelming. So far, we are yet to see any limits to mobile banking applications as it expands to accommodate or include the differences and diversities that characterize our society.
Mobile banking is a fantastic improvement on the internet or online banking features. While the primary purpose is to offer convenience to customers, it comes with other benefits like savings, account management, and investment opportunities.
Also, the benefits of mobile banking are not lost on banks and other fintech companies that use it for effective customer engagement and retention. To leverage mobile banking for these benefits, contact us now.