How to Build a Trading Platform in 2021
« Back to Blog page
How can your business benefit from Online Trading Venue during the post pandemic era.
The global trading market is humongous with trillions of dollars flowing among participants quarterly. And with most of this industry moving online, there is a lower barrier of entry than ever before. As a result, more and more people are showing interest in it. Regardless of your business type, taking it online can help it grow.
This development is in large part due to the COVID-19 pandemic, which resulted in the rapid growth of some industries and the decline of others.
Now, you are probably asking: How do I take my business online? The answer is simple: an online trading platform.
Read on to learn how to build a trading platform that will take your business to the next level.
COVID-19 Pandemic and the Gaming Industry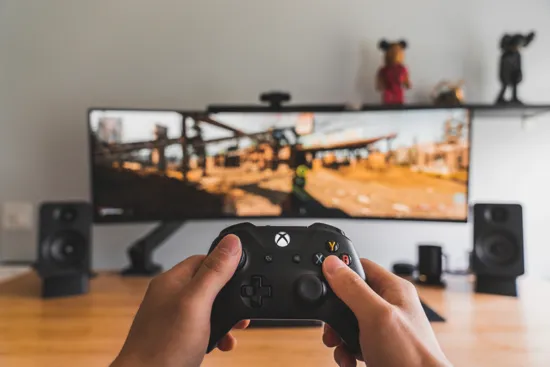 The gaming, gambling, and lending industries experienced some of the most growth during the pandemic. For example, gamers in the US increased to 28 million while those in the UK increased to 8.6 million. What's more? Mobile gaming was responsible for 28% of the US gaming population increment and 50% of the UK. This underscores the massive opportunity the internet represents for businesses and the potential for exponential growth it connotes.
US Mobile Gaming Population
UK Mobile Gaming Population
COVID-19 Pandemic and the Cryptocurrency Industry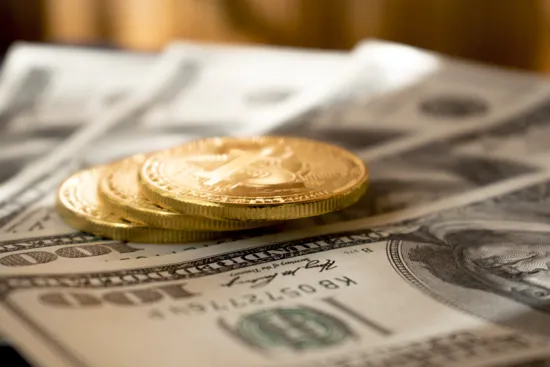 Apart from these, the pandemic also led to the increased adoption of Bitcoin and other cryptocurrencies, like Ethereum and Dogecoin. There are several reasons for this, including the following:
One reason for this was investors were afraid of inflation. Instead of risking that, they chose to invest in cryptocurrencies and have a hedge.
More acceptance of cryptocurrencies with large-scale institutions, including pension funds, university endowment funds, and investment trusts investing in them.
Adoption by payment solution providers like PayPal and Square
Cryptocurrency development by central banks
These events resulted in a boost in the value of numerous cryptocurrencies and brought them closer to being mainstream.
In 2020, bitcoin rose from $4,748 at the beginning of the year to almost $30,000 by the end of it. In the same year, Ethereum increased by about 450% from $129 to around $730. Since then, these currencies have posted even more gains with Bitcoin reaching an all-time high of over $64,800 and Ethereum getting to over $4,300. Dogecoin reached an ATH of almost $0.7. By the way, Dogecoin was developed as a joke by two developers, Billy Markus and Jackson Palmer. And with tech billionaire Elon Musk's support, among other things, its value increased exponentially in 2021.
2020 Bitcoin Trend
COVID-19 Pandemic and the Lending Industry
Another industry that experienced pandemic-induced growth is the lending industry, especially online lending. As a result of massive job losses and unemployment that occurred, many people had to turn to these lending services for emergency cash. To bring this into perspective, a report from CRIF showed that the Covid-19 disruption has led to a surge in lending by financiers propelling the personal loan market volume growth. The end of March witnessed an almost 60 per cent growth in active loans. However, it nosedived post-pandemic, but active loan growth was already in the red towards the end of August.
Portfolio Growth
Source: CRIF
In contrast, for the Americans, personal loan debt increased by 6%.
However, while there was an increase in personal debt, the rate decreased when compared to the previous year - 2019 - due to banks' fear that customers would find it difficult to pay back. The pandemic had resulted in heavy job losses, after all. Regardless, personal loans owed attained an all-time high of #323 billion.
Why Should You Have a Trading Platform
The pandemic ushered in a new age of trading. While online trading has been on the rise for a long time, it experienced rapid growth because of it. Because of this, more and more businesses are going online, which is a great thing.
Let's face it, who wouldn't want their business to grow exponentially? Definitely not us.
That being said, the best way to usher in such growth is to build a trading platform. And the first thing towards accomplishing this is to learn how to build a trading platform.
By, learn how to build a trading platform, we do not mean you should learn trading software development. You do not need to go that far. You simply need to know enough about what goes into online trading software development so you can choose the right firm to build yours.
Before we proceed, let's examine the trading platform features that make it crucial for you to build a custom trading platform.
Market control
When you build a wholesale trading platform or build a cryptocurrency trading platform, you will have a stake in market control. As a result, you will become a market influencer and have a hand in how the market moves, albeit in a little way
Digital presence
When you have a custom online trading software, your business's digital presence will increase as more and more people key into digital versions of products. One industry where this is very apparent is the gaming industry. In 2018, 83% of visual games - computer and video - were sold in digital formats. Ten years prior to this, only 20% of video games were sold in digital forms.
Versatility
Another advantage of building your trading platform is the versatility it provides. You can build a platform for virtually anything, from forex, stocks and commodities, to mutual funds, sports betting, and agricultural goods. You can even build for portfolio managers.
By the way, you can link different payment services on your platform and be rewarded. How does this work? When people pay via Plaid-connected credit cards, you can round up the charges and invest them in new and upcoming cryptocurrencies on your platform.
Alternative income
Having a trading platform also allows you to have an alternative means of income. How? By hosting partnership deals on your platform. With this, you will be able to divide your margins as you desire – both commissions and rebates.
Build a community
Building your platform will also allow you to build a community across all media, whether desktop, web, or mobile. You will be able to leverage on this to improve your business and earn more.
Earn via commissions and rebates
Having a trading platform offers you several earning opportunities. For example, you can make money via commissions and rebates. To do this, simply trade certain items on your platform. And with every successful transaction, you will be awarded certain commissions and rebates. You can make a vast sum of money depending on the volume of trade that occurs on your platform.
Be on par with online industry giants
Finally, building a trading platform will make you part of the speculative process controlled by companies like Visa, MC, and Exchanges. This power will enable you to ensure more success for your business.
With your trading platform, you can leverage the open banking framework to access your customers' financial data and develop better, more helpful products. Besides, by adopting this framework, you will be giving your business an in into the $9.9 billion in revenue that Open Banking is projected to have by 2022.
With Open Banking and FinTech, you will be able to provide your customers with a wide range of financial products and ensure they can use your platform smoothly and without any hassle.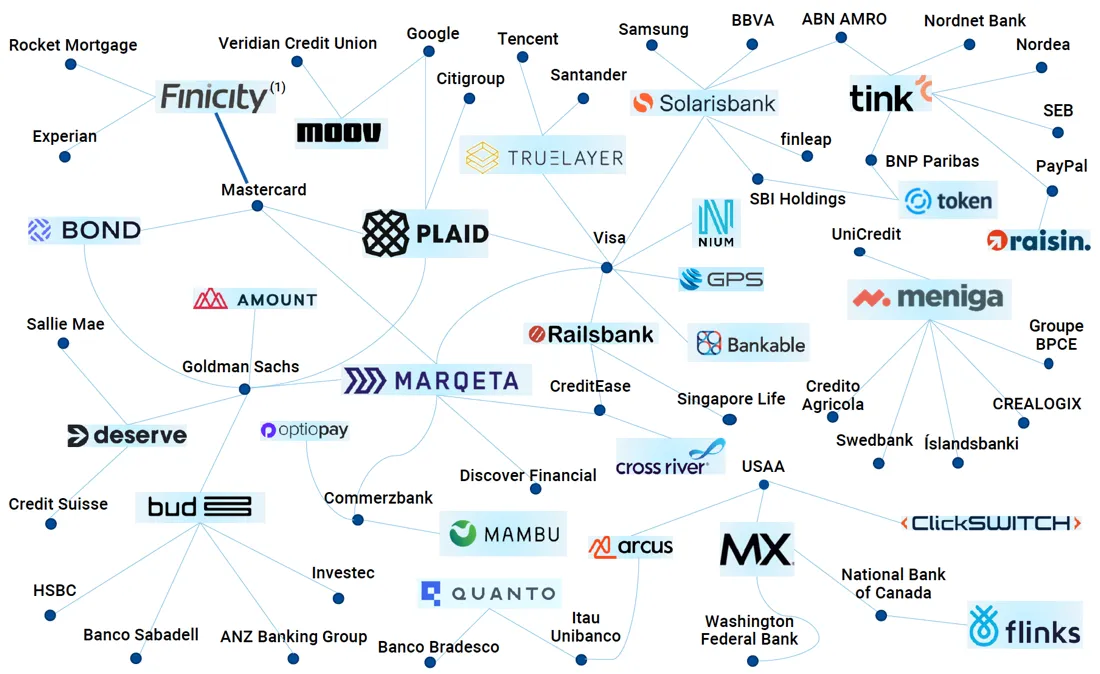 Source: FT Partners report, Open Banking
What is Plaid?
Plaid is a fintech product that makes transactions easier for people who have multiple bank accounts. The platform combines financial data from different sources and presents them in one location. This enables the client to view and access their data at all times.
What's more? It categorises transaction data of up to 24 months. This data can then be analysed to several ends, including a reduction of unnecessary spending and identification of viable investment and savings goals.
In short, Plaid is a financial platform that has many advantages. By connecting this product to your platform, you will make it easier for your customers to transact with you. And the more transaction you get, the more you earn.
Why Boston Unisoft Should Develop Your Platform
If you are thinking of how to build a trading platform, you cannot do much better than Boston Unisoft. There are several reasons for this. They include the following:
Boston Unisoft has vast experience in building trading platforms and algorithms. In fact, we have been developing platforms for more than 10 years.
BUT has executed several high-profile projects for major brokers worldwide.
BUT provides support on its products. Even after we develop your platform, we will provide you with expert level advice on how to get the best out of it, among other things.
BUT provides white labels of existing platforms to customers who can adapt them for their use.
Boston Unisoft Technologies' Products
Boston Unisoft is an expert trading platform developer; the numerous products we have developed attest to this fact. Below, we will showcase some of these products and the problems they solve. Read on to find out more:
Mutual Funds Trading Platform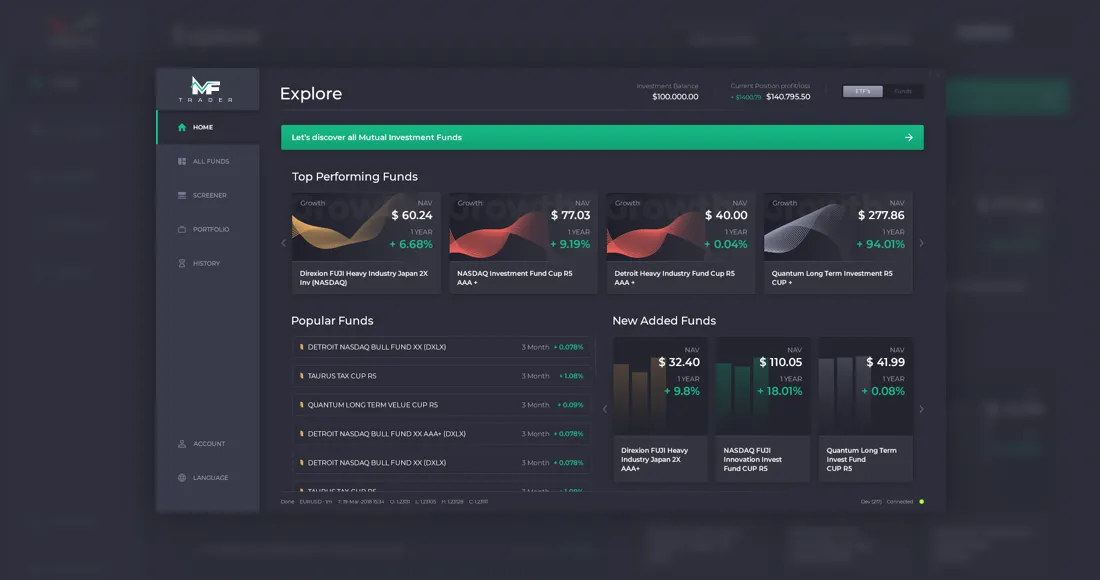 We developed a trading platform for Mutual Funds. The company's operations, and by extension, the platform's operations deal with mutual funds investment. For the project, we used a diverse range of tools to ensure a robust and encompassing platform that can handle all mutual funds-related processes.
Apart from a web-based platform, we also developed mobile applications – iOS and Android – for users. With these tools, Mutual Funds successfully digitised its operations and ensured better accessibility of its services.
UniTrader Trading Platform
Boston Unisoft developed the UniTrader platform, a powerful, second generation software for trading forex and CFD. To ensure it is top-notch, we used multiple technologies. As a result, the platform can handle the various complexities associated with currency and CFD trading.
The UniTrader platform was developed with end users in mind. And apart from hosting hundreds of financial instruments, there is a client onboarding process that helps newcomers gain an in-depth understanding of it.
Maple Syrup Exchange (MSE)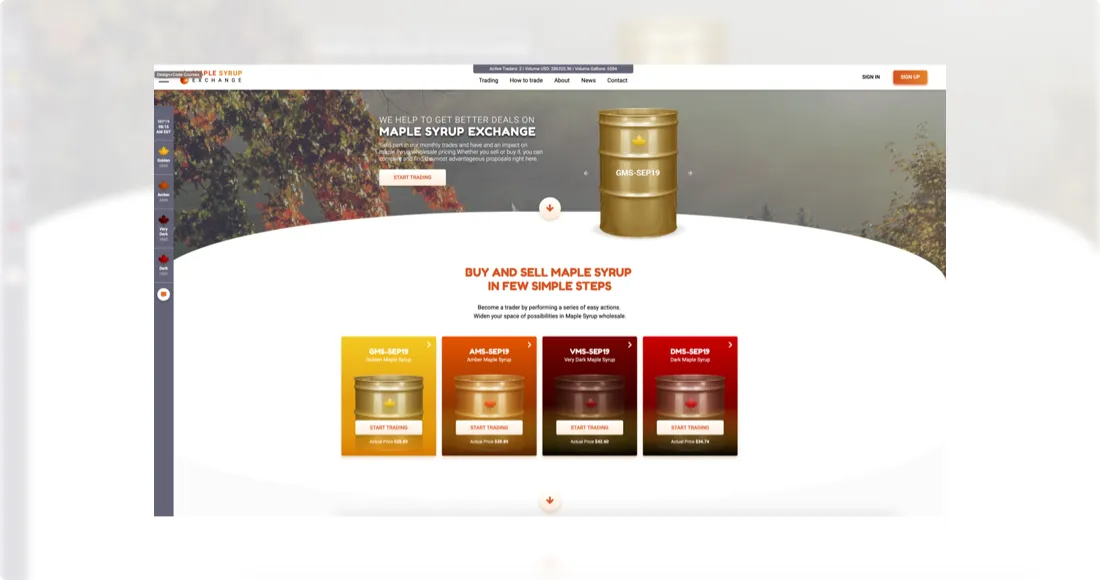 The Maple Syrup Exchange is a platform for selling maple products. This includes maple syrup (amber, dark, and very dark), maple sugar (fine and coarse), and packaging material. Maple Syrup Exchange is an online platform for a physical product: maple.
It is a location where people who need this product can purchase it in wholesale quantities. With this tool, local farmers of maple syrup can connect directly with buyers and get rid of the distributor network. As a result, both sides save money and have smoother transactions.
Client Onboarding and Management Systems CRM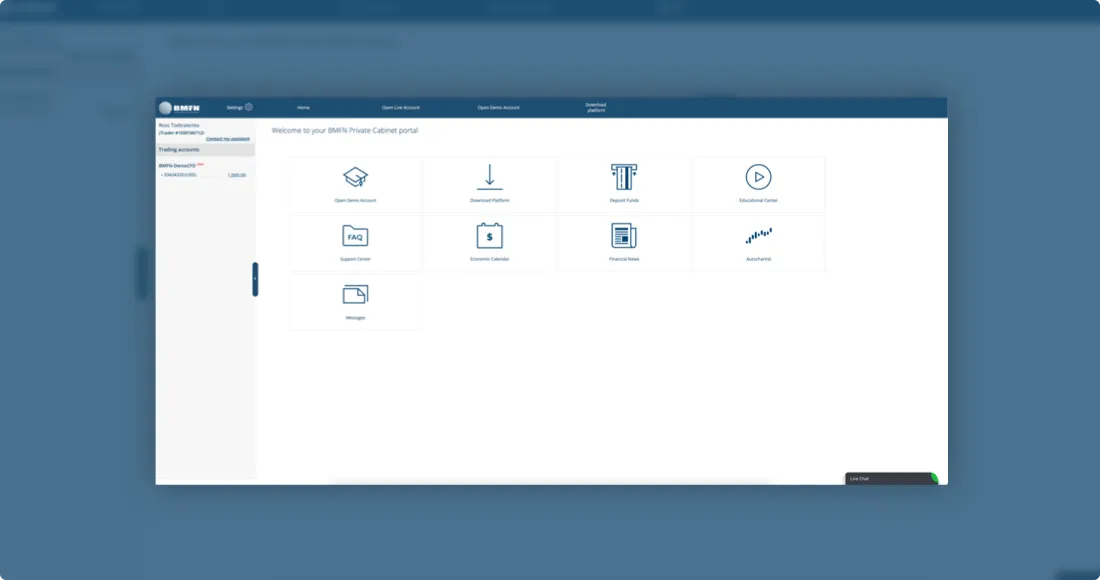 We developed a CRM system for BMFN, a leading brokerage firm and market maker. With this tool, the company can better manage and serve its clients. The registration and onboarding process is 100% electronic and comes with compliance verification. Further, the system has a robust security and reporting system that aligns with industry rules and regulations.
With our help, BMFN is a much better platform for financial investors and traders.
Advantages of Using Boston Unisoft Technologies
There are numerous brands that offer similar services to BUT's; however, BUT has several advantages that make them the best option any company can go for. These advantages include the following:
Vast experience in leveraged businesses
BUT is over 10 years old and has accomplished numerous projects over that span. As a result, we have more experience with leveraged trading businesses than the average brand. We can identify what is required to improve these businesses and ensure they attain new heights.
Considerable experience in customisable software solutions
We also have more experience in customisable software solutions than most of our peers. Our portfolio contains numerous examples of similar projects we have accomplished.
Experience in supporting complex trading systems
If your trading system is complex and experiencing consistent growth, we can help you. Over the 10 years of our existence, we have supported several complex trading systems and helped them ensure business continuity and longevity.
Skilled team of fintech engineers
At BUT, we have a skilled and experienced team of fintech engineers that can vastly improve your fintech product. Are you developing the next big thing in the fintech industry? We can serve as the vehicle that will bring it to fruition.
Conclusion
The past year has seen the internet gain more prominence in our lives. While the opportunities it provides has always been known, the past year made it more glaring. And where this technology had been heavily utilised for CFD, forex, crypto, and other financial trading, a lot was left to be desired when it came to trading other products.
This has never been the case at Boston Unisoft Technologies. We have always believed in the power of the internet to revolutionise trading in its totality; our products can attest to this. This article has shown why you should take your trading business online and why we are the best firm to help you do so.
While we develop trading platforms for every product, there is no denying that the forex, crypto, and stock markets are the largest. According to a BIS 2019 data, the forex market witnessed $6.6 trillion in trade daily as at April of that year. In the rapidly growing crypto industry, exchanges experience volumes that are tens of billions of dollars high on a daily basis. And the stock market? There were 249 million contracts in equity derivative in April 2021 alone.
If you operate in any of these industries, having your trading venue will enable you to maximise your returns. And that means you should build a custom trading platform for your business.
BUT is the answer to "How to build an trading platform." If you want to build one, reach out to us. We are always ready to help. To learn more about our company, read our About Us. You can also find out about our services via that address.