How Can You Find and Hire the Best App Developers?
« Back to Blog page
Ok, let's get real. The question of how to find or hire the best app developers can only arise because apps have become the new trend. If you think about it, apps are no longer luxuries or alternatives, but necessities that any business or organization that considers itself seriously cannot afford to ignore.
Technology has overtaken every industry, and in some way, businesses who embrace it turn out to become the leaders in their respective industries. The app technology trends improve performance and promise better trends for many companies. Mobile app developers, I particularly, roll out new and better solutions for challenges in industrial processes. Sometimes, it provides mere convenience to a system that already works. These tech innovations transform employee engagement and customer experience across health, finance, government sectors, etc.
This article will examine how you can find and hire a great app development team for your business.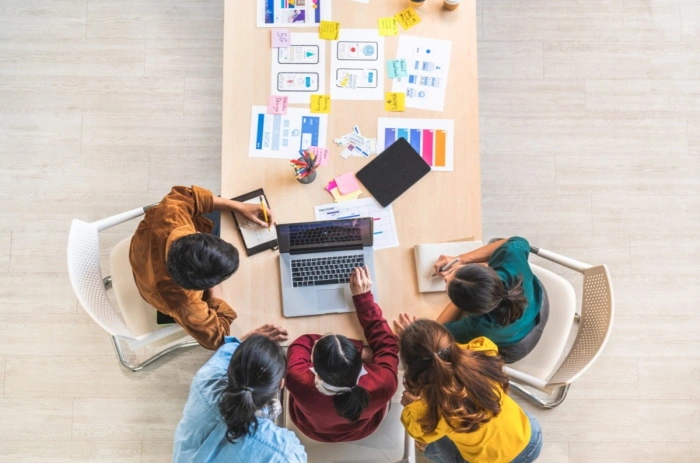 Define Your Business Needs
To put things in proper perspective, you must understand that the quest for the best app developers suggests that there are mediocre ones. This article aims to guide you and ensure that you don't spend your hard-earned money on wannabes or hire the wrong expert. In other words, businesses like yours have needs, and you don't want to pay the price of hiring the wrong professional to provide that need.
So, the preliminary step to start searching for developers is to define the needs of your business at the moment. More than wasted money, the cost of a poorly executed app can include the reputation of your business. You cannot afford to disappoint your customers and suffer the collapse of any goodwill you have built over the years. We recommend that you meticulously consider your business needs and define your hiring methodology based on them.
It is understandable why there is an oversupply of app developers. The industry is a goldmine, and businesses like yours are buzzing around it with desperate demands for experts. According to a Forbes article, the global mobile app market value was $154 billion as of 2019. Interestingly, this number is projected to hit $407 by 2026.
App development has become a juicy niche for many programmers with figures like this. For this reason, some developers start selling their services even before they gain enough skills to become proficient. Having noted your business needs, you will take the right approach to sift through the layers of ordinary programmers to find seasoned professionals to handle your project.
Every business idea has deeper intricacies that go beyond the surface-level appearance. The best app developers know how to determine these complexities and reflect them as a solution in your app. Finding and hiring this kind of developer can prove daunting most times, and that is why this article will show you all you need to know.
Searching For Potential IT Developers
To acknowledge the reality, most organizations have IT departments with dedicated developers. Your business is probably one of them. Aside from in-house developers, you may even have some programming knowledge and can develop an app yourself. In addition to that, there is an assortment of free and paid tools you can leverage to create your dream app. If this is the case, you may be wondering why you need to bother hiring a developer.
However, as we noted in the previous section, developing a fantastic app depends on using specialized professionals. We recommend that you subject yourself to the same reader of scrutiny you would apply in analyzing other developers. You may be tempted by the prospect of the money you could save by developing the app yourself, and that's a good sentiment, to be fair. However, if you rate your abilities and discover they don't meet the standards you expect from the ideal developer, you would be doing a disservice to your business if you insist on making the app.
Aside from your knowledge level and the abilities of your in-house team, the magnitude of the app you need might require more hands to ensure the end product is top-notch. Remember that your business has competitors to beat in the market. Finding the best app developer will do this trick for you within a reasonable time
So, What Options Do You Have For Hiring A Good Developer?
You have flexible options for hiring app developers for your project. Depending on the nature of the particular project, you can consider either a full-time or part-time hire. In each scenario, you have the following options with their attendant pros and cons:
Option 1: Engage An In-house Team
You could say that this is the traditional option. It involves assembling a team of professionals to become part of your organization. In this case, they report to work at your office every business day and close as all regular staff does. This option offers better communication between you and the team, and you are always abreast with the day-to-day progress of the project. As a result, you are more in control and can suggest changes as early enough.
While this option for hiring app developers seems to be a brilliant idea, you have not noted that there are underlying factors you must consider. First, hiring an in-house team means that you have to provide office space for them. Secondly, you must set up the office with the necessary hardware and provide the licensed software they need to work. Thirdly, since they are employees, the issue of wages, leave allowance, and other incentives come into play.
Also, depending on the magnitude and nature of the app, the development process can stretch long enough to require proper management of resources and the team. You may need to hire a project manager to oversee the process if you cannot handle it yourself.
Advantages Of Hiring An In-house Development Team
It offers the luxury of seamless communication flow between you and the development team.
You have better control of the process. For this reason, you can make changes quickly and prevent resources from being wasted early enough.
An in-house team most often has a better grasp of why your business needs the app. As a result, the team is better informed and is more likely to develop a solution that would satisfy your business needs and your customers.
Disadvantages Of Hiring An In-house App Developers
Hiring an in-house team takes a rigorous process since they are app developers and staff members of your organization also.
It demands time and team management skills from you or a project manager or CTO to stand in for you.
It is more expensive to page regular wages and other incentives to an in-house team of app developers.
Option 2: Hire A Freelance App Developer
There are almost as many freelance platforms as there are freelancers. You will get a massive supply of programmers that can help you with your app project on these platforms. However, the challenge with having numberless developers to choose from is the dilemma of selecting the best from the pool. Sometimes, the ratings and reviews by former clients can help you sieve through, and some freelance platforms have become smart enough to grade their freelancers according to their ratings.
Hiring a freelancer leaves you with only a few things to worry about. Some of the burdens it takes off your shoulders include office space, infrastructure, and project management. The only job you have is communicating with the freelance developer for progress reports. However, this kind of arrangement where you stay aloof until the developer lets you in on the project has its challenges.
You also have to consider that freelancers work on multiple projects simultaneously. Before hiring a freelancer, be sure that they won't abandon your project for something else.
Advantages Of Hiring A Freelance Developer
It is cheaper than hiring in-house experts.
It offers an ample supply of developers with different skills.
Disadvantages Of Hiring Freelance App Developers
You have less control over the process
Your project is at a higher risk of abandonment.
Option 3: Partner with An Outsourcing Team
This option is the same as hiring in-house experts with the stress of office provision, team management, and wages taken out. It is also like hiring a freelancer, only this time; you hire a professional IT company with a track record of app development.
Advantages Of Hiring An Outsourcing Company
It is cheaper than hiring in-house experts.
It is more reliable than hiring a random freelancer
Outsourcing companies are better organized than freelancers in managing the projects they have.
Disadvantages Of Using Outsourcing Companies
Language barriers and time zone differences might rob you of the opportunity of hiring the best company for your project.
When Is Outsourcing The Best Option?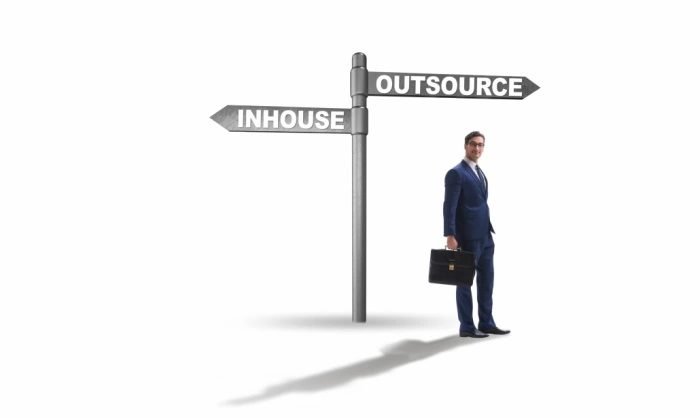 From experience, many organizations have agreed that hiring outsourcing companies seems to be the best option. It is cheaper when compared to employing in-house developers. Freelancers may be more affordable than hiring outsource app development or in-house teams, but outsourcing companies are more professional. Based on this, a fantastic outsourcing company like Boston Unisoft will help you nail your project when you have:
Talent Shortage: Outsourcing companies supply a larger pool of talents and specialists than you can ever have amongst your in-house experts.
Close Deadlines: Besides being development experts, outsourcing companies are fantastic with project management and handling deadlines.
Limited Budget: Outsourcing companies are more cost-effective than hiring in-house developers. You have to pay in-house developers wages just for showing up, even when they are not working on any projects.
Make A List Of Candidates And Analyze Them
After carefully considering the options available for you to engage the right app developers for your project, the next natural step is to start searching for developers that possess the qualities you need. Your goal at this stage is to make a list of developers you find interesting and analyze them. For the search and analysis, we recommend that you adopt the following procedure:
One of the ways you can search for developers is to ask for recommendations. However, going online will provide you with numerous freelancer or company options.
Look for a developer you can rely on for long-term development
App development doesn't end after the launch. Your customers and employees will have feedback that might necessitate some upgrades. Look for developers that would be willing to continue working post-launch. It is easier because they understand the code better. And it is more affordable.
Sometimes a leap of faith works. But why take a chance on someone with no record of experience when you can hire top coders with some evidence of professionalism? You're in a competitive marketplace, and you can't afford to gamble on developers with scanty profiles if you hope to thrive.
Established communication channels are the root of any progress. Ensure that you have no language barrier with the developers you list for consideration.
What are previous clients saying about their services?
A profile is good, but from experience, we know that some of them are either fake or just dressed up to look cool. It's not uncommon for a developer to list multinationals as their clients when they were probably hired for a minor project by real developers. So, always look out for reviews and unbiased testimonials of their clients.
Of course, when a developer requests higher fees than others, they may have attained a degree of professionalism with market endorsement and credibility. Ensure that you list developers that will offer you the quality of service as long as their fee is within your budget. Don't compromise on the quality of development.
What is their Privacy Policy?
Being a businessperson, you know more than anyone the importance of confidentiality. With in-house employees, this is easier to maintain. Hiring developers risks your privacy to some degree. Ensure that you list only developers willing to honor a confidentiality agreement.
Beyond coding expertise, ensure that you list only developers who also prioritize UX/UI design in their development process. In the end, the app presentation must attract users before the functionality can wow them.
Hire The Best App Developers
Having generated a list of good app developers from your analysis, you have to decide and choose the best one for your project. Below are a few things you should consider to ensure that your choice is the best:
What is your app's platform?
Everyone's an expert at something or a few things at most. No one is a specialist in everything. So, you have to decide the platform your app will run on to enable you to choose the right developers. Do you want a native iOS or Android app? Or do you want a cross-platform application? What technology do you need for this project? Providing the answers to these questions will help you remove developers that don't qualify from your list.
What type of app do you want?
Apps fall under different domains, which determine the features the developer would build into them. Applications developed to provide financial services cannot have the same features as a medical or fitness app. Therefore, you have to choose the right experts for your app type for quality control.
Request for their development experience in your app domain
It is one thing for a developer to have an impressive portfolio; it's another to have a niche experience in the type of app you want. Ask the developers on your list to send you their portfolios with verifiable case studies working on the kind of app you need.
Conclusion
Choosing the best app developer for your project can be an overwhelming experience, especially if you are not tech-savvy. In this case, the best developers are the ones that will not only offer you the best coding but those willing to carry you along through the development process. Boston Unisoft is the best in this regard. We have the best teams with the best qualifications for the app type or domain you operate.
Care to leverage our services to transform your business and enjoy the benefits of exponential growth? Let's schedule a meeting and see how our developers can help you.