FinTech Accessibility Solutions
« Back to Blog page
Companies that care about their customers endeavor to ensure they have the best experience of their products. As a fintech company, you're not exempted. Moreover, digital accessibility provides a guideline for you to ensure people with disabilities are not left out.
In this article, we will examine what digital accessibility is, the different types of disabilities, legislations that guide it, and much more.
What is Digital Accessibility?
Digital accessibility is the practice of developing digital products – websites, web apps, mobile applications, etc. – that are accessible to everybody, regardless of their ability – or disability.
It is a developmental approach that ensures that people living with disabilities – visual, hearing, motor, or cognitive impairments – can access, understand, navigate, and interact with digital products.
Of course, it includes digital fintech products as well.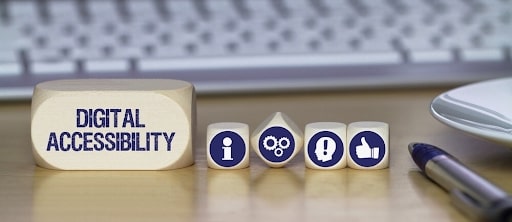 Types of Disability
Several people across the world lack technology accessibility for one reason or the other. In this section, however, we will discuss the different types of disabilities. We also discuss the barriers they pose to technology accessibility for persons with disabilities.
Let's get started!
Visual Disabilities
Visual disabilities can range from mild to moderate, as found in those who have lost vision in one or both eyes. It can also be substantial or severe, as seen in those who have completely lost sight in both eyes. Additionally, some people experience a reduced or complete lack of sensitivity to specific colors, otherwise known as color blindness.
Owing to the visual nature of most web content, people who are blind often face the most barriers in accessing these contents. Luckily, they can avoid these barriers by using a refreshable Braille display that converts the text on the digital page to text. They can also use a screen reader or screen magnification program to access their device or computer.
Some barriers to these disabilities are:
An excessive amount of or complex content
Difficult navigating within a content page
Inconsistent navigation
Visual content without a text alternative
Functional elements that can't be accessed through a keyboard
Unstructured content, that is, content without proper headings, topics, or sections, etc.
Multimedia that lacks audio description
Poor contrast that makes it challenging to distinguish text from background
Auditory Disabilities
Auditory disabilities include partial hearing loss or difficulty hearing and a substantial and impossible to correct hearing impairment. Bear in mind that these impairments can be in one or both ears.
Most people with auditory disabilities encounter challenges when audio content is provided without text-based alternatives. Take note that some people with auditory disabilities can communicate in sign languages, like American Sign Language (ASL) and langue des Signes Quebecois (LSQ). For these people, written language on a website may pose barriers similar to reading a second language.
Some barriers to auditory disabilities are:
Audio that lacks transcript
Multimedia that lacks transcript or caption
Lacking sign language, especially American Sign Language (ASL), interpretation
Cognitive, Learning, and Neurological Disabilities
Cognitive, learning and neurological disabilities refer to behavioral, mental health, and neurological disorders. These disorders affect their victims' ability to process and understand information. And they range from mild, like reading-related disability, to severe, like cognitive impairments that may limit the use of language and information processing skills.
Examples include attention deficit and hyperactivity disorder (ADHD), autism spectrum disorder, memory impairment, and mental health disabilities.
Common barriers of cognitive, learning and neurological disabilities are:
Insufficient length of time to complete digital tasks
An excessive amount of or complex content
Unstructured content, that is, content without proper headings, topics, or sections, etc.
Inconsistent navigation
Unexpected responses
Use of highly complex language
Physical Disabilities
Also known as motor disabilities, physical disabilities are weak and limited muscle control. Examples include paralysis, joint disorders like arthritis, lack of coordination, tremors, missing limbs, etc. Take note that not all people with physical disabilities have barriers to digital content. For instance, a person with missing limbs alone can see a digital page's information and user interface and interact with it.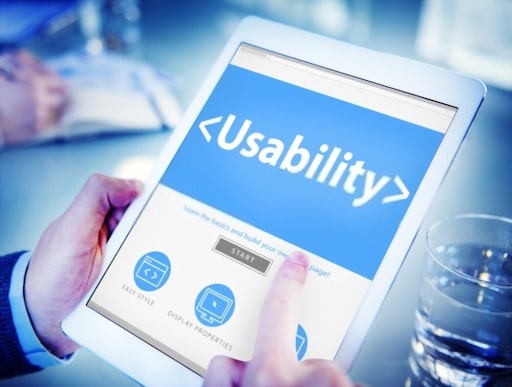 However, there are specific physical disabilities that pose a barrier to digital content. For example, people with fine-motor impairments or limited use of their hands are limited in their ability to target and click on a mouse, and they may be unable to use a mouse at all. Instead, they may rely on their voice or keyboard to navigate through the digital content.
Some barriers these groups of people encounter are:
Tiny clickable areas
Inadequate time to complete digital tasks
Inability to manipulate functional elements using a keyboard
Accessibility Legislation
Different locations have different digital accessibility legislation.
Web Content Accessibility Guidelines (WCAG)
The WCAG is what passes as the standard for web/digital accessibility legislation globally. The World Wide Web Consortium (W3C) developed it to guide developers to build accessible websites. There are two versions:
WCAG 2.0 – W3C published this version in 2008. In 2012, it became an ISO standard.
WCAG 2.1 – this version was published in 2018. While it includes the requirements of the WCAG 2.0, it has other guidelines informed by recent advances in technology.
The WCAG has three conformance levels: Level A, AA, and AAA. Each level specifies a degree of accessibility, with Level A having the easiest degree and Level AAA having the hardest.
Accessibility Legislation in the USA
In the USA, the following legislations apply to and protect people who live with disabilities.
Rehabilitation Act of 1973
This legislation was the first of its kind in the USA. It was enacted to ensure that people with disabilities have equal access to public transportation, bathrooms, buildings, and telephones and were not discriminated against.
It ensured that the same privileges extend to people with disabilities and those without. This law gave birth to Section 508.
Section 508
In 1998, Section 508 amendment was added to the Rehabilitation Act of 1973. It stipulated that United States federal agencies must ensure their electronic and information technology were just as accessible to people with disabilities as they did to non-disabled people.
In 2008, following the massive gains in technology over the past two decades since its addition, Section 508 was updated. One of these updates was the addition of the Web Content Accessibility Guidelines (WCAG). As a result, Section 508 is, in some ways, synchronized with the accessibility laws of other countries across the world.
Americans with Disabilities Act (ADA)
The ADA is a law that seeks to protect people with disabilities from discrimination. It has three parts:
Title I – this section addresses workplace discrimination
Title II – this section addresses discrimination issues across State and local government structures
Title III – this section covers discrimination in public accommodations and commercial buildings, like restaurants, malls, cinemas, and so on.
If you wonder how this law ties into digital accessibility, consider that these entities also provide digital products for interacting with their customers. Consequently, they are under obligation to ensure their digital offerings are accessible to their customers.
Principles of Digital Accessibility
The Web Content Accessibility Guidelines (WCAG) are organized based on four core principles known as POUR. These principles state that the content must be: perceivable, operable, understandable, and robust. To put into perspective, the WACG is the most referenced set of rules in digital accessibility lawsuits.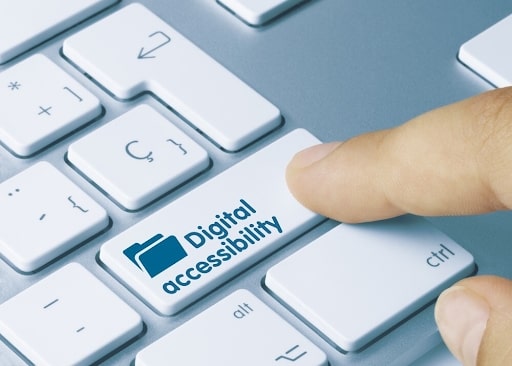 The four core principles of digital accessibility are described below:
Perceivable
For content to be accessible online, the information and user interface components must be made available to users in easy to perceive ways. That is, they must be presented in ways that will make the user understand the information.
Some of the guidelines to this principle are:
Adaptable: All created content must be capable of being presented in multiple ways without losing its structure or detail. For example, they must have an easy layout.
Distinguishable: All content must be easy for users to see and hear. This includes separating the foreground from the background.
Time-based media: Alternatives must always exist for time-based media.
Text alternatives: There must be text alternatives for all non-text content to ensure that they can be changed to other forms. Examples of these alternatives include large print, symbols or other simple languages, speech, and braille.
Operable
The navigation and user interface components must be operable. That is, the interface must not require an interaction the user cannot perform.
Some guidelines are:
Adequate time: Users must have enough time to perceive content and use it.
Keyboard accessible: All functionalities must be available on a keyboard.
Navigable: Users must be enabled to navigate the digital page, find content, and identify their position using different means.
Input modalities: Users must be able to operate functionality using several inputs aside from the keyboard easily.
Physical reactions and seizures: Avoid designing content in a manner that can elicit physical reactions or seizures.
Understandable
User interface operations alongside the information on the digital site must be understandable. That is, the user must understand every aspect of the user interface operations and the information available on the site.
Below are some of the guidelines of this principle.
Input assistance: It must-have features that enable it to prevent users from making mistakes and correcting the mistakes they make.
Predictable: The web pages must appear and operate in predictable manners.
Readable: The text content must be easy to read and understand.
Robust
The content available on the website must be adequately robust. The reason is that it will enable a range of user agents, including assistive technologies, to interpret it reliably. That is, the content must remain accessible even as user agents and technologies evolve.
Robust guidelines include:
Compatible: Ensure that the content is optimally compatible with present and future user agents, including assistive technologies.
Why is Accessibility Important in Fintech?
Accessibility is essential to fintech for many reasons. We discuss some of them below.
Accessibility in FinTech Opens Up Financial Services to More People
Fintechs developed in line with digital accessibility guidelines can be used by people with disabilities, ensuring they can access the same financial services that non-disabled people can. Barclays bank provides a good example of this. One of its many fintech innovations for disabled people is Talking Cash Machines that ensure blind people can access their cash without help from non-disabled people.

It Confers Protection Against Litigation
Many countries, including the USA, UK, Australia, and Canada, stipulate web/digital accessibility guidelines. Thus, if your fintech product is not accessible, you would have opened yourself up to a lawsuit. For instance, over 3,000 cases were recorded in the USA in 2020 against entities deemed to have violated the ADA.
Hence, making your fintech accessible protects you against lawsuits.
It Increases Trust and Attracts More Customers
When your fintech product is digitally accessible, it portrays an image that you care about people living with disabilities. As a result, they will be inclined to trust you and patronize you more than they would FinTechs that don't offer the same features.
Must-have Options for Accessible Solutions in FinTech
If you have a fintech product, you should consider the following options to make it more accessible.
Chatbots
Chatbots offer an opportunity to attend to customer's concerns immediately. To make your fintech more accessible, implement the following:
Label the buttons correctly
Ensure the color contrast is sufficient
Provide a proper keyboard focus
Ensure it is easy to navigate
In summary, implement the same accessibility guidelines for your mobile application/website with your chatbot.
Audio Transcripts
If you have an audio file on your product, endeavor to provide a transcript of it. Doing this will ensure that people with hearing impairments can also access the content and derive the same benefits.
Provide Keyboard Functionality
Providing keyboard functionality will ensure your fintech product is accessible to people who find it hard to navigate with a mouse, like people with mobility issues, fine motor issues, and broken fingers, among others. With keyboard functionality, they can easily navigate your product with their keyboard instead.
Build an Accessible FinTech Product with Boston Unisoft Technologies
As a customer-oriented fintech company, there are many advantages obtainable from building an accessible fintech product. If you intend to do this, the first step is to liaise with an experienced fintech development company.
Boston Unisoft Technologies is an organization that has been developing software solutions that meet legal guidelines that apply to the target audience's location for over a decade. If you are looking to build digitally accessible fintech products, we can help you. Get in touch with us today to get started.